The popular Kentucky Horse Park Run/Walk Club will return on May 6 and continue to meet on Monday evenings through July 29 (except for May 27 in observance of Memorial Day). Check-in is between 5-8 p.m. It all starts at the Kentucky Horse Park Visitor Center. Each week we will have delicious food, live music, a featured vendor and yoga! (Yoga class from 6:30-7:30) Run/Walk Club is an open event for all to attend (for FREE) at the Kentucky Horse Park! Run Walk participants can choose between a 2-mile loop and a 3.5-mile loop (or both!) around the park. Kids, joggers/strollers and leashed dogs are welcome! #KHPRunWalkClub
Distance: 2.1 mi: https://www.mapmyrun.com/routes/view/2461341124

Distance: 1.24 mi: https://www.mapmyrun.com/routes/view/2461330603
---
Take part in an onsite Yoga class during each
Run/Walk event with Chelsey Reid, MPH.
Chelsey is Trauma-Informed RYT 200 certified and has instructed Yoga during the last 3 seasons of KHP's Run/Walk Club!

---
We are excited to announce a great line-up of Monday night music at the Kentucky Horse Park's Run/Walk Club!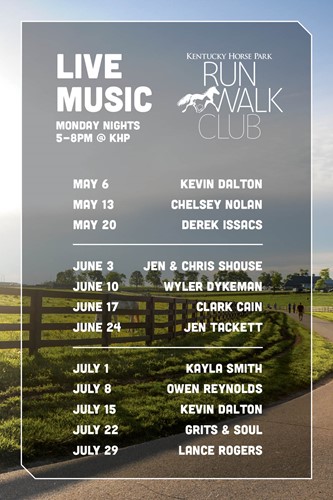 ---
WHAT IS RUN/WALK CLUB?
Run/Walk Club is an open event for all to attend (for free!) at the Kentucky Horse Park! We have a 2-mile loop and 1.5-mile addition to walk or run at your own pace. Our goal is to bring those in the Lexington community together and explore the Kentucky Horse Park (which is only 10 minutes from downtown!)
WHEN IS RUN/WALK CLUB?
The Kentucky Horse Park Run/Walk Club begins May 6 and continues to meet on Monday evenings through July 29 (except for May 27 in observance of Memorial Day) from 5:00pm-8:00 pm. Guests will check in at the Visitor Center and have a chance to stop and talk with the vendors and charities that are set up.
WHO CAN COME TO RUN/WALK CLUB?
Everyone! Bring your family, friends, coworkers, children, and dogs! We ask that kids do not ride bikes during this event (for safety reasons) but scooters and strollers are allowed! We are very dog-friendly – please keep dogs on leashes at all times.
DO YOU HAVE TO BE A MEMBER?
No! We do have a registration table where participants will sign in (name, location, and age) so that the Kentucky Horse Park and keep track of our wonderful participants, but you do not have to be affiliated with the park to participate.
ARE THERE HORSES AT RUN/WALK CLUB?
Yes! The horses that are in our daily shows will be turned out into their paddocks for the night. You will be running, or walking, right past their paddocks.
WANT TO BE A VENDOR AT RUN/WALK CLUB?
Email Amy at [email protected] for more information and the Vendor Application Form.