---
Man o' War was unquestionably the most famous Thoroughbred who ever lived. The Kentucky Horse Park pays tribute to this truly legendary horse with a majestic bronze sculpture and memorial at his grave site, located in a place of honor, near the entrance to the park. He is buried alongside the Triple Crown winner War Admiral, who was his most famous son, and several of Man o' War's other noteworthy sons and daughters. The peerless African-American jockey, Isaac Burns Murphy, is also buried nearby.
Of the Many Horses Which Live On in the Hearts of Americans, One Horse is Most Remembered – Man o' War.
Those who knew Man o' War were enriched by the experience. This was not just another racehorse. Man o' War was one of 1,680 Thoroughbreds foaled in 1917. He was born on March 29 at the Kentucky Nursery Stud owned by August Belmont II. Man o' War's sire was Fair Play, by Hastings, both of whom were mean and temperamental, but excellent weight carriers. To provide balance to Fair Play's temper, Belmont bred him to Mahubah, by Rock Sand who had won the British Triple Crown. Her ancestors were even-tempered and intelligent.
He was named by Mrs. Belmont, "My Man o' War"-since he was a war baby. Belmont's insight as a breeder ultimately paid off, if not in money. Belmont was to serve in the Army in 1918, so he ordered his entire crop of yearlings sold at Saratoga.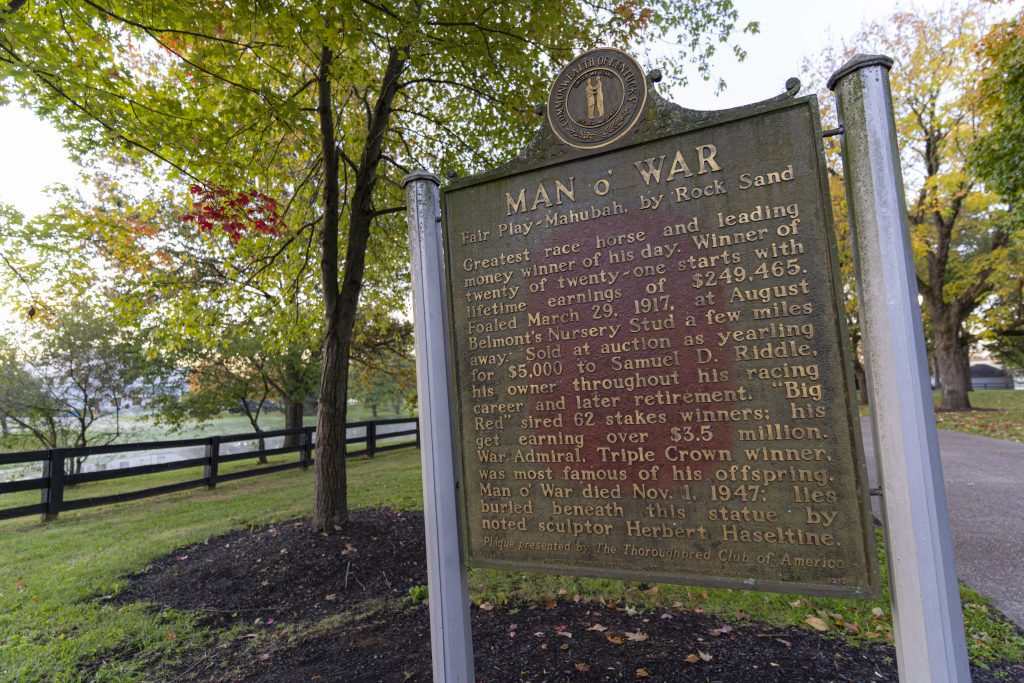 Big Red's Yearling Sale and Training
At Saratoga, Man o' War was bought by Pennsylvania horseman Samuel Riddle for $5,000. Riddle reasoned that if the big, chestnut yearling didn't succeed as a race horse, he could perhaps be trained as a show jumper. The horse was shipped to Riddle's training farm, "Glen Riddle, " in Maryland. Man o' War was trained by Louis Feustel who had trained Mahubah, Fair Play, and Hastings. Here Man o' War grew to the size and name of "Big Red."
When he was sent off to his first race at Belmont Park, a retired bay hunter named Major Treat accompanied him and would continue to travel with Man o' War throughout his racing career.
Racing Career "By Himself"
On June 6, 1919, ridden by Johnny Loftus, Man o' War won his first race by six lengths, crossing the finish line at a canter. He showed his desire to be a front runner and never liked to have any other horse in front of him. Legend has it that upon seeing him in action, a spectator asked a groom, "Who's he by?" The reply was "He's by hisself, and there ain't nobody gonna get near him." He ran only in expensive stake races for the remainder of his career. As his wins built up, so did the weight he was required to carry. By his fourth race, Man o' War was carrying 130 pounds, a very great weight for a two-year-old.
His sixth race was the Sanford Memorial and the only defeat of his career. A bad start left him with a ten length deficit, and once he caught the pack he was boxed in. He was beaten by a horse ironically named Upset, whom Man o' War beat on six other occasions. In spite of this lone defeat, at the end of his two-year-old season he was selected Horse of the Year.
RECORD SETTING THREE-YEAR-OLD
Man o' War went undefeated as a three-year-old in 1920, and reduced the American record for the mile by two-fifths of a second, to 1:35 4/5; and even at that, his jockey – now Clarence Kummer – had held him back. Later, in the Belmont Stakes, he went 1 3/8 in 2:14 1/4 which stood for 50 years. By the time of the Dwyer Stakes at Aqueduct, Man o' War could find only one opponent, John P. Grier, a horse from the Whitney Stables. In this race, Grier challenged Man o' War, and Kummer used his whip for the first time. Man o' War dashed to victory, and set a new American record at 1:45 1/5.
The crowning event of Man o' War's career came in a match race against the celebrated Canadian horse Sir Barton, the first winner of the Triple Crown. On October 12, 1920, he and Man o' War met in Windsor, Ontario. Man o' War won by seven lengths! In his career "Big Red" won 20 of 21 races.
Watch a segment of Man o' War's famous match race with Sir Barton.