The Kentucky Horse Park is the final resting place for numerous high-born, noble steeds of legendary accomplishment, and many humble horses whose even greater achievements were to provide friendship for those who loved them. These horses' gravesites are located throughout the park, in addition to the great horses who are buried behind the Hall of Champions and near the Man o' War Memorial. There are also a number of statues and markers to honor the memories of horses who are buried elsewhere.
Horses Buried at the Man o' War Memorial
Located near the Visitor Center
Foaled in March of 1917 at August Belmont's Nursery Stood just north of Lexington, Man o' War was considered the greatest thoroughbred of the 20th century. He became one of the top breeding stallions of the country, siring Triple Crown winner, War Admiral. This memorial gravesite also holds the remains of several of his sons and daughters.
One of the last foals by Man o' War, War Kilt was foaled on March 15, 1943 out of Friars Carse by Friar Rock. Starting eight times as a two-year-old, the chestnut filly earned $13,845.
Best known as the dam of War Admiral, Brushup was foaled in 1929 by Sweep, out of Annette K by Harry of Hereford. Only racing a total of three times as a two-year-old in 1931, she did not have an impressive racing record, earning a total of $300.
Foaled on March 18, 1938 by Man o' War out of Friars Carse by Friar Rock, War Relic did not race as a two-year-old. Winning his first race as a three-year-old in 1941, he followed with six straight losses, but finished with eight victories in his last ten starts. After a successful four-year-old season, War Relic retired to stud where he became the leading sire of two-year-olds in 1950.
War Admiral was foaled in 1934 by Man o' War when he was 17, out of Brush Up, by Sweep. After winning the Triple Crown, he was Horse of the Year in 1937 and won the Jockey Club Gold Cup at four, suffering his greatest defeat when he lost a match race with Seabiscuit. He was top money-winning sire in 1945 and leading sire of juveniles in 1948.
Foaled April 5, 1938 by Man o' War out of Artifice, this chestnut filly not only resembled her sire in color; but also had an impressive racing record. Out of 43 races, she won 25, with earnings of over $20,000.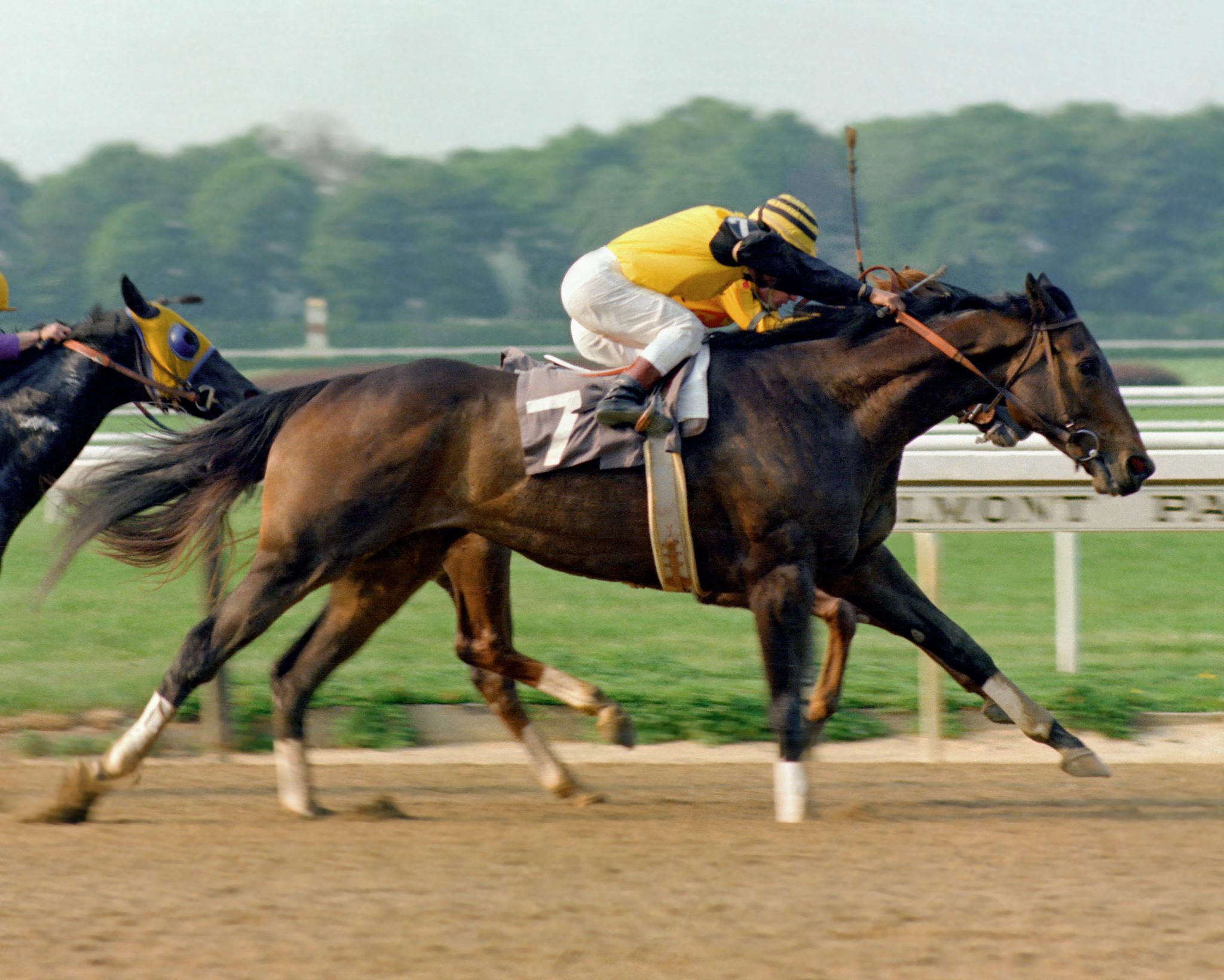 Horses Buried at the Hall of Champions
Click the link below to read about the horses who lived at the Hall of Champions.
Horses Buried at Walnut Hall Stud Cemetery
Located near the Breeds Barn (Standardbreds)
A strapping bay son of Spencer Scott-Earl's Princess Martha, Rodney was a champion racehorse and sire. Capturing 47 of 67 races, he won a Hambletonian heat at 3 and stood undefeated at 4. He began stallion duties at Walnut Hall Stud in 1950, dying in 1963 after breaking his left radius bone. His influence on the Standardbred trotter will be everlasting.
The black daughter of Scotland, Scotch Song was the daughter of the great broodmare Evensong, who now rests beside her. Producing only four foals, Lusty Song was a 1950 Hambletonian winner, while Scotch Rhythm was the second best against the boys in a 1951 Hambletonian heat.
Princess Gay consistently produced superior foals from 1931 to 1950.
Fionne had 13 foals and each one of them raced. Her most prominent son was Darnley, a foal of 1940 who caught the eye of racing fans not only because of his ability, but because of his beauty. Darnley was known as the "Beau Brummel trotter" and one writer said that if he had a million dollars he would buy Darnley just so he could admire the horse every day.
A Boxer who was injured as a puppy and nursed back to health by Mrs. Jenny, one of the owners of Walnut Hall, Hilda remained Mrs. Jenny's devoted companion until Hilda's death at the age of 15.
Winning the first heat of the 1934 Hambletonian, Princess Peg was beaten by two colts from the same stable. She later took revenge, winning the prestigious Kentucky Futurity in Lexington. Her daughter, Princess Rodney, became the fastest 2-year-old trotting filly in history, with a mile time of 2:01 in 1953.
Half-sister to King's Counsel and the constant nemesis of the great pacer Adios, Primrose Helen produced 16 foals, but never raced. Her descendents include the champion 2-year-old pacers, Hillsota and Meadow Wilma, along with world-champion aged pacing mares, Handle With Care and Tender Loving Care.
A brown daughter of Dean Hanover and the mare, Mignon Hanover, Marilee Hanover was a half-sister to the granddam of multi-millionaire, Mack Lobell, once the world's fastest trotter. Producing five foals, Marilee Hanover's descendents include the outstanding trotting stallion, Master Willie, and the pacing stallion, Crouch, who won a heat of the Little Brown Jug.
If you followed the trotters in the 1950s, chances are you followed two of Protectarine's sons, Lord Stewart and Darn Safe. Both sons of Darnley, they were among the best trotters of the decade and raced long and well. Together, they earned over $800,000 and each one at some point ranked as the richest trotter in the world.
Postponed in 1927 due to rain, the second Hambletonian Stake race was held a month later. During that month, Iosola's Worth came into top form and swept the greatest race for trotters in two heats. Later becoming a broodmare, her offspring were always in great demand at the yearling sales.
A "cash cow" for Walnut Hall Farm, Evensong was the first mare to produce six horses with times of 2:00 or faster for the mile distance. Her son, Victory Song, became the highest-priced Standardbred yearling in history when he was sold for $37,000.
Irma Hanover, a daughter of Mr. McElwyn, was a busy broodmare. Her 12 foals were among the many Walnut Hall Stud yearlings auctioned off inside the "Big Barn" across the sidewalk from the cemetery. Irma Hanover's best foal was the Rodney trotter, Something Special, was her best foal, who was special enough to return to his Walnut Hall Stud birthplace as a stud himself.
Dutchess Hanover
1940-1963
As a broodmare, Dutchess Hanover produced a pair of royal sons in Duke of Lullwater, who won a heat of the Kentucky Futurity, and the outstanding Free-For-All trotter, Merrie Ducke. Duke's Dutchess, a daughter of Dutchess Hanover, continued the tradition when her son, Duke Rodney, not only won two legs of the Trotting Triple Crown, including the Kentucky Futurity; but also went on to be named the 1963 Trotter of the Year.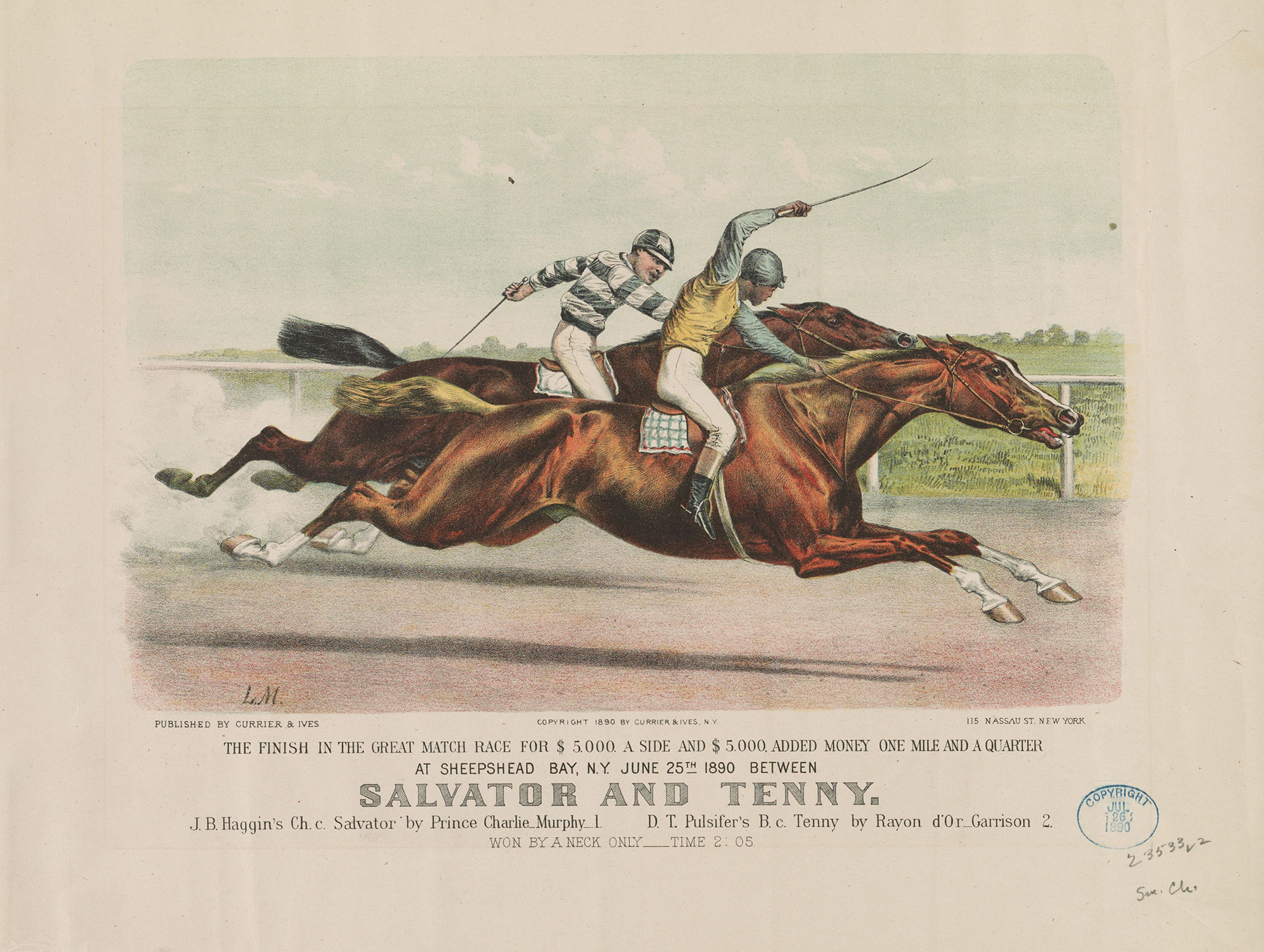 People buried at the Kentucky Horse Park
Click the name below to read about one of the greatest American jockeys of all time.
Horses Buried in the Champion Cemetery
Located near the Big Barn
In his 3-year racing career (1964-1966), Bret Hanover won 62 of his 68 starts, and was voted Horse of the Year each year. In 1967, he captured racing's Triple Crown, winning the Little Brown Jug, Cane Pace, and Messenger Pace, before retiring to stud at Castleton Farm later that same year. His yearlings sold for an average of $50,000 in 1979. Dying on November 21, 1991 from colic, he was buried wearing his halter in a wooden casket lined with a Castleton Farm horse blanket, on November 23rd at the Kentucky Horse Park.
World War Juan (aka Twigs)
1985-1996
World War Juan (aka Twigs) was a World Champion Paint Reining Horse. Nicknamed Twigs, he was owned by Mary Anne Squires of Cinnamon Creek Paints. Winner of the 1988 A.P.H.A. World Futurity in Albuquerque, N.M. World War Juan was sired two-time halter and reining National Champion Paint Horse in San Juan.
A Bay mare foaled in 1970 by Sea Bird, out of Priceless Gem by Hail to Reason, Allez France won 13 of 21 starts and was inducted into the French Thoroughbred Hall of Fame. The first filly in Thoroughbred racing history to earn more than one million dollars on the track, Allez France is widely considered one of the greatest racehorses of the 20th century in the world, on turf. Retiring to Lane's End Farm in Versailles, she died in 1989 and was buried at the Kentucky Horse Park that same year.
Liberation First Star
1992-2006
Sired by Century Free Spirit and dam, Liberation Starbrite, who together hold more than 35 World and National titles in harness, hand, and under saddle, Liberation First Star was an American Morgan horse stallion. A multi-World and National Champion Park Saddle horse, as well as a harness and in hand champion, his foals exhibit the same talent and show-horse attitude for which his family is famous. Owned by George Schott of Lewiton, Maine, First Star stood at Cabot Morgans in Falmouth, Maine and was buried at the Kentucky Horse Park in the spring of 2006.
*Bask was foaled February 9, 1956 by Witraz out of Balalajka, two of the most distinguished sire lines for Polish Arabians. Bred by Roman Pankiewicz at the Janow Podlaski State Stud in Poland, *Bask was imported to the United States on March 9, 1963 by Dr. Eugene LaCroix of Lasma Arabians in Scottsdale, Arizona. Considered by many to be the most influential sire for the Arabian breed, *Bask was firmly established as the leading sire of champions in the United States just six years after being imported in 1969. Dying in 1979, *Bask is buried at the Kentucky Horse Park near the Big Barn. His statue, by sculptor Edwin Bogucki, stands in the lobby of the International Museum of the Horse as a lasting symbol of the enduring influence Bask has had on the Arabian breed.
* denotes that he was imported; ++ denotes that he received his Legion of Merit award for earning 75 points during his show career with a minimum 30 halter and 30 performance
A son of the 1978 Triple Crown Winner, Affirmed Out of Vive by Nureyev, Peteski was foaled in 1990 and raced for Earle Mack. At three, he quickly established himself as a major force in North America, winning seven of his ten starts. Retiring with a record of 7-2-1 in 11 starts and earnings of $1,287,866, Peteski stood most of his stud career at Darby Dan Farm before being moved to Pin Oak Lane near New Freedom, PA. He suffered an attack of colic on February 25, 2001, and was euthanized at the New Bolton Center of the University of Pennsylvania's School of Veterinary Medicine after two surgeries and five weeks of treatment.
Bred by Lasma Arabian Stud in Scottsdale, Arizona, Promotion was foaled on April 17, 1975. The son of *Bask++ and dam *Prowizja by Ego, Promotion had a prolific stud career siring 539 registered Arabian and Half-Arabian progeny. He was reinterred at the Kentucky Horse Park in 2006.
Bred by Sagamore Park Arabians and foaled on January 3, 1976 near Houston, Texas, Bask Elect +/ was sired by *Bask++ and his dam was Ima Electric by Electric Storm. He won 28 championships and 28 first-place ribbons the first nine years of his life, as well as earning 90 points for his Legion of Honor. On March 3, 1985 a freak accident while being shod left Bask Elect totally blind. His trainer decided against putting him down, and one year later he was awarded his Legion of Honor Award. In September of 1987, he re-entered the show ring; and in 1988, after much work and acupuncture, Bask Elect regained some of his vision. Dying in 2003 at the age of 27 from complications due to old age, Bask Elect is buried near his famous sire, *Bask++.
Bred and owned by Farid Sefa, Sefa's Beauty was foaled in 1979. Winning a total of 17 stakes wins, including a Grade 1 stakes, she had earnings of more than $1,171,000 on the track. Retiring at Taylor Made Farm, she died in 1989.
Bred by Dr. Ben Roach and Tom Roach at their Parrish Hill Farm in Midway, KY Princess Rooney won the 1984 Breeders' Cup Distaff (G1) at Hollywood Parkin grand style, by seven lengths – a full second faster than that year's Breeders' Cup Classic winner, Wild Again. Earning a permanent place on the list of Thoroughbred racing's great mares, she became the first Breeders' Cup winner to be inducted into the National Museum of Racing and Hall of Fame. Having 17 wins, including five Grade Ones, she finished out of the money only once and earned $1,343, 339 along with the Eclipse Award for Champion Older Mare for owner Paula Tucker under the tutelage of trainer Neil Drysdale. Retiring from the track, Princess Rooney sold for $5.5 million, the third-highest price ever paid for a broodmare at that time. Most recently owned by Robert Gentry, she was humanely euthanized on October 7th at Gentry Farm, due to complications of EPM. Buried at the Kentucky Horse Park, she was honored with a public memorial service on November 15, 2008.
Horses Buried Near the Cove
Located near Rolex Stadium
A black Oldenburg stallion, Volturno was a member of the German Silver Medal Team at the 1978 World Three-Day Event Championships held at the Kentucky Horse Park. Eventing for 10 years at the highest levels and competing in 27 international three-day events, he was also a member of the German Silver Medal Teams at the 1976 Olympics in Canada, and the Alternate Olympics in Fontainebleau, France in 1980. Retiring sound, he was Europe's leading warmblood, three-day event sire. Having just been imported to the United States to stand at Hamilton Farm in Massachusetts for the 1988 season, Volturno was tragically and brutally attacked by unknown human assailants while in quarantine in Virginia. Valiant efforts to save him failed, and he died at the age of 20. In tribute to this great Three-Day Event horse and his place in the history of the Kentucky Horse Park, he is buried on a knoll overlooking the water jump known as the Head of the Lake, one of the original obstacles on the 1978 World Three-Day Championship Cross-Country Course.
A Thoroughbred/Irish Sport Horse gelding, bred in County Claire, Ireland, The Gray Goose was owned by American eventer Kim Walnes. Known as the equine star 'Sylvester Stallone' in the movie Sylvester, he and Walnes doubled in the movie for the eventing shots. Cremated when he died on June 7th, 2000 at the age of thirty, his ashes were spread around the cross-country course.
Horses Buried in the Original Draft Horse Field
General Trelane
An Oldenburg gelding and former resident of the Kentucky Horse Park Breeds Barn. General Trelane was euthanized on September 27, 1999 due to cardiac problems.
Pluto III Erga
A Lippizan stallion and 15-year resident of the Kentucky Horse Park's Breeds Barn, Pluto III Erga was euthanized on January 8, 2002 due to infirmities. Pluto arrived at the park in December 1987 as a 9-year old.
Shyster
A 21-year old English Shire and fifteen-year resident of the Kentucky Horse Park. Shyster worked as part of the Horse-Drawn Tour, a Mounted Police horse, and in the Breeds Barn.
Bud
Bud came to the Kentucky Horse Park in 1991 at the age of foud. The Percheron gelding served in various areas throughout his 13 years at the park. Bud was euthanized due to infirmities in 2005 at the age of 17.
King
An English Shire and former resident of the Kentucky Horse Park Draft Horse Barn.
Icy Hot
Icy Hot was a yearling Saddlebred colt, and former Education Department horse owned by Margi Stickney. A diagnosed wobbler, Icy Hot was euthanized December 17, 1999.
Chet
A Percheron gelding and former resident of the Kentucky Horse Park's Draft Horse Barn, Chet was euthanized on October 9, 1999 due to complications from colic. Arriving at the park in July 1989 as a 5-year old, Chet helped pull the Horse-Drawn Tours, and was the "off" leader in the 4, 6, and 8 horse hitches during his ten years at the park.
Genesis
Genesis was a 21-year old Hackney mare donated to the park in 1992 by Mr. Bob Wright of Pee Wee Valley, Kentucky. A former resident of the Carriage Horse Barn, Genesis was euthanized on December 4, 2004 due to infirmities and then buried in the Draft Horse Field cemetery.
Pluto II Sardinia
A Lipizzan stallion and former resident of the Kentucky Horse Park Breeds Barn.
I Two Step Too
An eleven-year-old Thoroughbred who became known as "Seabiscuit" after starring in the movie with ten other horses, I Two Step Too was cast as the "blow by" Seasbiscuit because he could turn on speed and blow by the other horses pulling into the lead. Since his arrival at the park in May of 2003, I Two Step Too had been in the daily Parade of Breeds presentation held in the park's Breeds Barn. Featured in the Seabiscuit festivities at the Louisville premiere of the movie on July 19, 2003, he was auctioned off at the charity fundraiser event that evening. In December 2004, surgery was performed on I Two Step Too at Hagyard-Davidson McGee to remove a rare type of tumor from his nasal cavity. Not responding to treatment, the tumor regenerated and the decision was reluctantly made to euthanize the horse. He was humanely euthanized on March 7, 2005 and is buried in the Draft Horse Field cemetery.
Horses Buried in Georgetown Field
This field is bordered on the SE by the riding concession field, I-75 on the west, and the winter draft horse field to the north.
Lannan's Siri Superdot Chieftain (aka Chief)
Born on April 30, 1968, Chief was a Pony of the America's champion, whose career in the show ring was exemplary. Donated to the park by owners Don and Jan McMillian at the age of 18, Chief was a resident of the Breeds Barn until his retirement in 1994. After retiring from the Parade of Breeds, Chief was loaned to the Central Kentucky Riding for the Handicapped and served them well until his passing on August 14, 2003 at the age of 35.
Foxy's Win a Wolf
(aka Nugget)
A registered bay Quarter Horse gelding, Nugget was foaled in 1982 and used for western pleasure riding before coming to CKRH in 1997. Used in the therapeutic riding program, Nugget also participated in various demonstrations and competed in Special Olympics. Dying in 2004 at the age of 22, Nugget's ashes are interned next to Chief in the Georgetown Field.
Horses Buried at the Steeplechase Course
Located at the finish line near the infield fence
Jay Trump
1957-1988
Jay Trump's beginnings were humble. Foaled in Maryland in 1957, a son of Tonga Prince – Be Trump, by Bernborough. By the time he retired in 1965, this gelding had conquered the world, becoming the first winner of the English Grand National to be bred, owned, and ridden by Americans. During his five-year career as a jumper, he won 15 of 23 races and became a hero in America and Europe. Elected to Racing's Hall of Fame in 1971, Jay Trump lived out his days at Mrs. LeBlond's Meshewa Horse Farm near Cincinnati, Ohio. On April 24, 1988, after discovering that he suffered from a twisted intestine, Jay Trump was humanely euthanized. He was buried at the finish line of the Kentucky Horse Park steeplechase course at the request of Mrs. LeBlond.
Horses Buried at the
American Saddlebred Museum
Rex Peavine #1796
1899-1925
A champion American Saddlebred stallion, Rex Peavine was foaled on May 3, 1899. Sired by Rex McDonald and dam Daisy 2s (BHF) by Peavine, he was owned and bred by Dr. W. L. Hockaday, Silver Creek, KY and trained by C. T. Sandidge. After Hockaday's death, his son James inherited Rex Peavine and the Hockaday family owned the stallion his entire life. Rex Peavine was the World's Grand Champion Five-Gaited Horse in 1903, and would be recognized as one of the breed's greatest sires, siring over 400 gets. Dying in 1925 at the age of 26, he was buried on the farm of his owner James Hockaday in Richmond, KY. After the farm had been sold and prepared for development in 1999, his remains were exhumed and he was reinterred at the Kentucky Horse Park near the American Saddlebred Museum.
Vendetta
Originally buried at Robert A. McCray's farm in North Middletown, KY; the property has since been developed and the stone was moved to the museum.
Supreme Sultan
(statue only)
1963-1983
An American Saddlebred foaled on March 12, 1966 at Alvin Ruxer's Ruxer Farms in Jasper, Indiana, Supreme Sultan was sired by Valley View Supreme, the only stallion to ever win the World's Grand Championship Three-Gaited class, out of Broodmare Hall of Fame-mare, Melody O'Lee. As a weanling, Supreme Sultan was sold to Barlite Farms in Texas. However, within two hours of the death of his sire, Valley View Supreme, on November 28, 1967, Mr. Ruxer bought Sultan back, putting him in his sire's former stall. At age 11, Supreme Sultan became the youngest horse to lead the sire ratings, which he led for six years. Having a serious bout of colic, he was taken to Dr. Scott Bennett's veterinary clinic in Simpsonville, KY where, after two surgeries, the decision was made to have him humanely euthanized on December 6, 1983. Buried at the American Saddlebred Museum at the Kentucky Horse Park, a beautiful life-size bronze statue by renowned artist Patricia Crane was later added to his grave on September 25, 1985.