Western Dreamer
Standardbred Pacing Triple Crown Winner
In 1994, just a few miles from his current home at the Hall of Champions, a
very special son of Western Hanover
was foaled.
Early on, Western Dreamer showed that his talent was more than just wishful thinking. Partnered with outstanding Standardbred trainer Bill Robinson and driven by Hall of Famer Mike Lachance, he paced his way into the record books.
Western Dreamer earned his keep as a two-year-old, finishing in the money in 6 of 10 races. In November of 1996, he was purchased privately by the Canadian Daly brothers for $125,000.
His Pacing Triple Crown was achieved through emphatic victories in the Cane Pace, Little Brown Jug, and Messenger Stakes. In the Little Brown Jug, a record crowd turned out to witness Western Dreamer win the race by 5 lengths while setting a new record for a three-year-old gelding. His winning time of 1:51 1/5 in the 1997 Little Brown Jug was the fastest ever recorded at the time.
When he paced across the finish line in the Messenger Stakes, he became the 8th Pacing Triple Crown winner in history and the first in 14 years.
Western Dreamer was named Champion Three Year Old Pacer and Pacer of the Year in both the United States and Canada, and earned the title of Canada's Harness Horse of the Year.
He was officially retired as a six-year-old in 2000, as the fifth-richest pacing gelding of all-time with over $1.8 million. Western Dreamer found his way into the winner's circle 27 times and was second or third 29 times. He remains the only gelding (neutered male) of any breed to win a Triple Crown.
As a four-year-old in 1998, he paced one of
the fastest miles ever recorded
at the time–1:49 flat.
In addition to his Triple Crown, Western Dreamer earned 5 championship titles in 2 countries (USA and CANADA) in 1997.
In the years since his Pacing Triple Crown win, only two other Pacers have won the crown. He remains one of only ten to accomplish this feat.
Western Dreamer is one of the friendliest residents of the Hall of Champions.
Notable Wins
1997

Pacing Triple Crown

Art Rooney Memorial Stakes
1998

Battle Of Lake Erie

U.S. Pacing Championships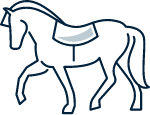 "He is very consistent. Half-mile or mile track, it doesn't matter to him."
Driver Mike Lachance
Western Hanover, Fits of Fun
Matthew, Patrick Jr. & Daniel Daly