Founded nearly 30 years ago, the Mustang Troop invites underserved youth from the Central Kentucky community to a two-week summer horse camp experience held at the Kentucky Horse Park. Offered free of charge, the horse camp includes riding lessons, personal development activities, daily transportation, meals, riding apparel, and mementos.
2018 | BRONZE
Sergeant Reckless
By jocelyn russell
About Sergeant Reckless
Sgt. Reckless was a war horse for the US Marines during the Korean War. Purchased for just $250, the Mongolian mare would prove to be an important addition to the Marines. During the Battle of Outpost Vegas in 1953, Sgt. Reckless made 51 trips in a single day to carry ammunition from the supply camp to the front lines. The majority of these trips, Reckless completed by herself. The little mare carried close to five tons of ammunition; walking almost 35 miles while under enemy fire. She also carried wounded soldiers from the front lines on the return trip. Even after being wounded herself, Sgt. Reckless didn't slow down or stop. She was loved and respected by the Marines she served with and her amazing performance during the Battle and throughout the war lead to her being promoted to the rank of Staff Sergeant. Sgt. Reckless was given two Purple Hearts along with many other Military Decorations for her service. Sgt. Reckless died in May of 1968 and was buried with full military honors at Camp Pendleton.
About the Artist
Jocelyn Russell was born and raised in the San Luis Valley in beautiful Colorado. The youngest of five children, she was allowed to join her mother in the studio after the older kids were sent off to school. Jocelyn dabbled in all forms of art materials. At age 12, she landed a job with a local veterinarian. She worked her way up into a hands-on position, participating in all aspects of the business, including assisting during surgeries. It was the highlight of her youth, and after 14 years on the job, her love of animals and anatomy was cemented. Beginning art as a full-time career in 1992, her paintings and bronzes have since generated thousands of dollars for conservation organizations. Sculpting nearly full-time now, she works on pieces from miniature to monumental.
2010 | BRONZE
Alysheba
BY ShELLY HUNTER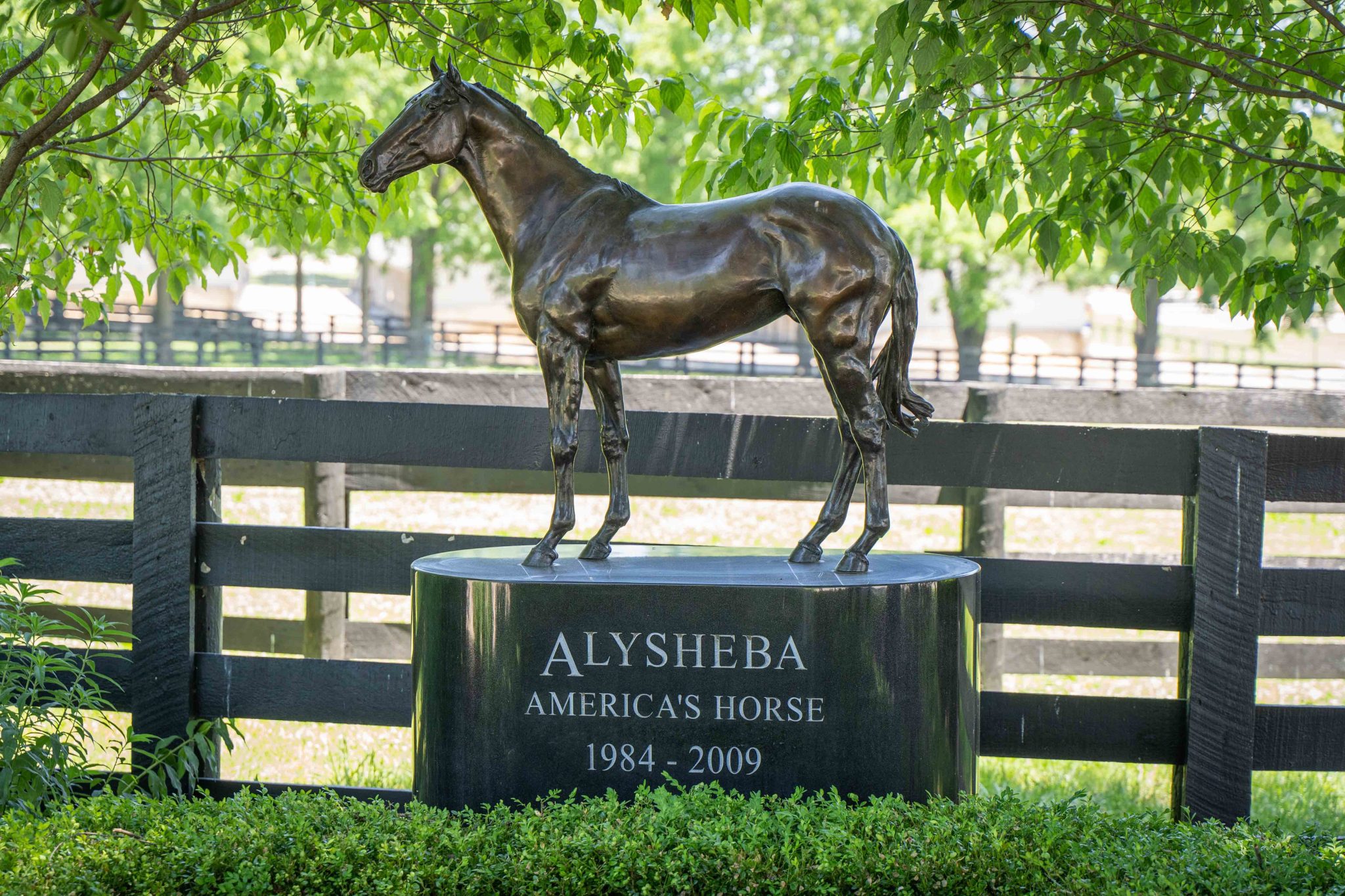 About Alysheba
Alysheba won the 1987 Kentucky Derby (G1), Preakness Stakes (G1), Super Derby (G1) and an Eclipse Award as Champion three-year-old colt. As a four-year-old, he was even better, winning six Grade 1 stakes: the Strub Stakes, Santa Anita Handicap, Iselin Handicap, Woodward Stakes, Meadowlands Cup and the Breeders' Cup Classic. He was ridden in 17 consecutive starts by Hall of Fame Jockey, Chris McCarron.
About the Artist
Sculpted by renowned artist Shelley Hunter, the Alysheba statue was conceived as a complementary piece to the John Henry memorial statue adjacent to it, which Hunter also created. The two statues form an impressive honor guard for the Hall of Champions.
1997 | BRONZE
Bask++
BY edwin bogucki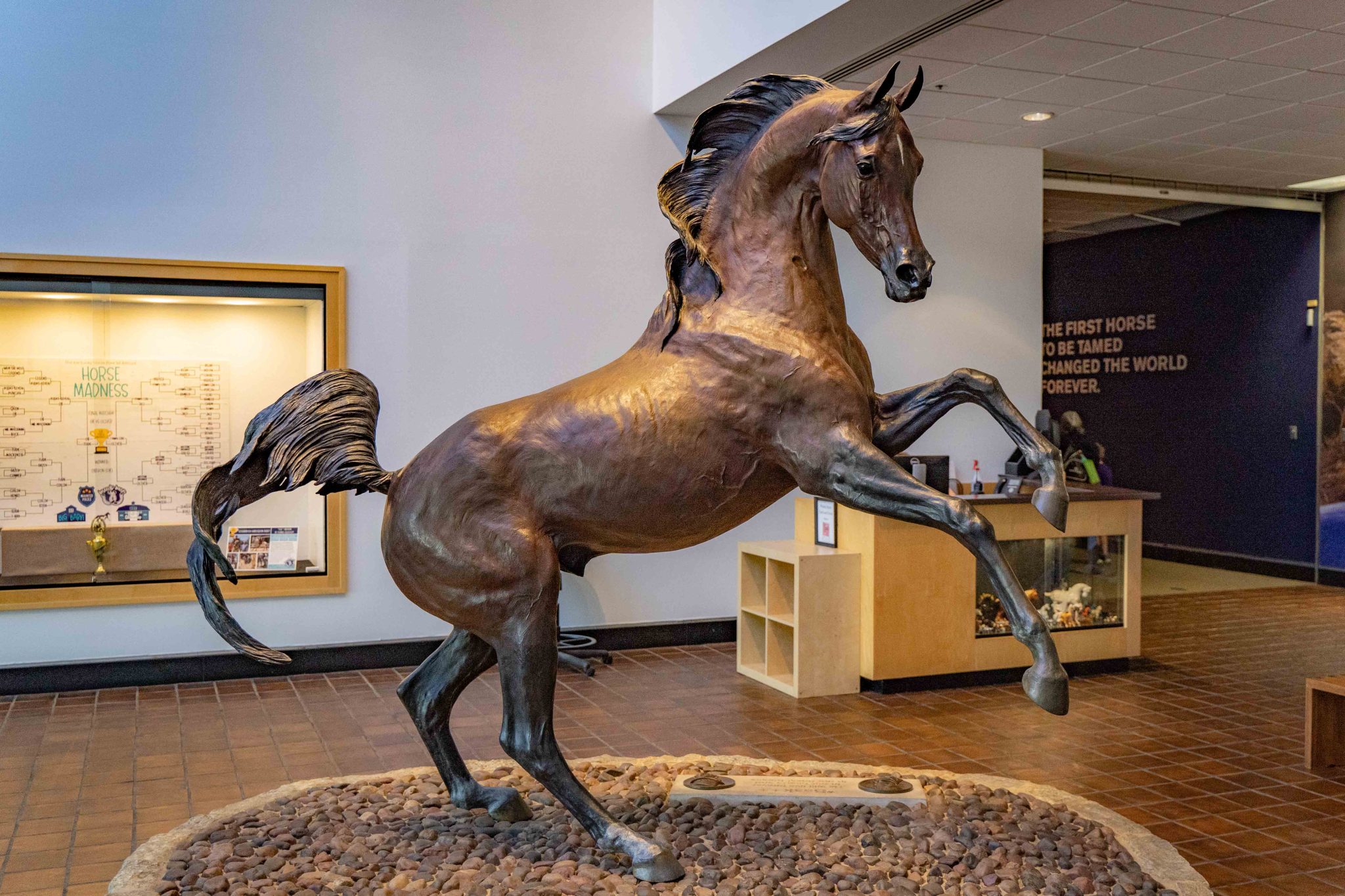 About Bask++
Located in the lobby of the International Museum of the Horse. The World Champion Polish Arabian stallion Bask was bred in 1956 by Roman Pankiewicz at Albigowa State Stud in Poland. Albigowa closed in 1961, and horses were transported to Janow Podlaski State Stud in Poland. In 1963 he was imported to the United States by Dr. Eugene Lacroix of Lasma Arabians, in Scottsdale, Arizona. In 1964, at age 8, Bask was named U.S. National Champion Stallion and U.S. National Top Ten Three-Gaited (Park) Horse, an accomplishment never repeated in the Arabian show world. At stud, Bask produced more champion Arabian horses than any other Arabian stallion. Bask died in 1979 and is buried at the park's Champions Cemetery.
About the Artist
Born in 1932 to Polish immigrant parents, Edwin Bogucki was raised in Racine, Wisconsin where, as a young boy he displayed an uncommon talent for fine art and a particularly intense interest in horses. Although his parents tried to discourage his aspiring talents in the hope of his pursuing a more lucrative career, Bogucki maintained his love for art and dedicated himself to learning as much possible on own.
The artist's early experience with self-teaching turned into a lifelong commitment to purposefully avoid formal art education. Believing that he must maintain the purity and uniqueness of his ideas, Bogucki sought and accepted instruction from only three people. The first was Sister Monica, a high school teacher who had been a pupil of Mestrovic. Another was painter, Alex Dziguraki, with whom Bogucki spent an afternoon of intense instruction concerning his palette. The most influential person, however, was Harry C. Thompson, an artist that Bogucki met in 1953.
In 1969 Bogucki made the decision to leave his job in commercial art and pursue a full-time career in fine art. Working in both oil and pastel, the artist did many portraits of horses, dogs and children. In 1962 a commission for a bronze portrait of a Shetland pony gave Bogucki his first opportunity to work in that medium.
Since those early years Bogucki's main body of work has been made up of commissioned portraits of horses and people. His highly sought-after bronze portraits number 35 to date while his pastel and oil portraits amount to well over a hundred. He has also done many limited edition bronzes and non-commissioned oil paintings. Recently, the artist has devoted a large part of his time to other animal species, of particular interest has been the lowland gorilla. With each new piece his unusual talent has showcased a versatility rarely encountered in contemporary artists.
Bogucki lived in Racine County, Wisconson, where he and Shirley maintained five acres woodland on which their house/studio complex was built. Designed by the artist himself, the property included a barn and facilities for Bogucki's own horses which serve as models for his work. The Bogucki's had four children. Both Edwin and Shirley Boguki passed away in 2021. Their contributions to the equine art industry will live forever.
2002 | BRONZE
Bret Hanover
BY luis sanguino
About Bret Hanover
Born in 1962, Bret Hanover was possibly the greatest pacing Standardbred in history, winning 62 of his 68 races. He was born at Hanover Shoe Farms in Pennsylvania, and was the son of the great sire, Adios out of the mare Brenna Hanover. He was one of only nine horses in history to win the Triple Crown of Harness Racing for Pacers.
Bret Hanover was retired as the fastest and richest standardbred in harness racing history. He went to stud at Castleton Farm in Lexington, where he immediately became one of the most in-demand breeding stallions in the country. He is remembered as one of the best broodmare sires of the century.
Bret Hanover died in November of 1992 at Castleton Farm where he had lived for 26 years. He was buried Monday, November 23, 1992 in a newly created Champions Cemetery at the Kentucky Horse Park. This bronze statue by Sanguino previously stood outside of Castleton's farm office, and now marks his grave.
Bruce Davidson
Riding Eagle Lion
BY Jean clagett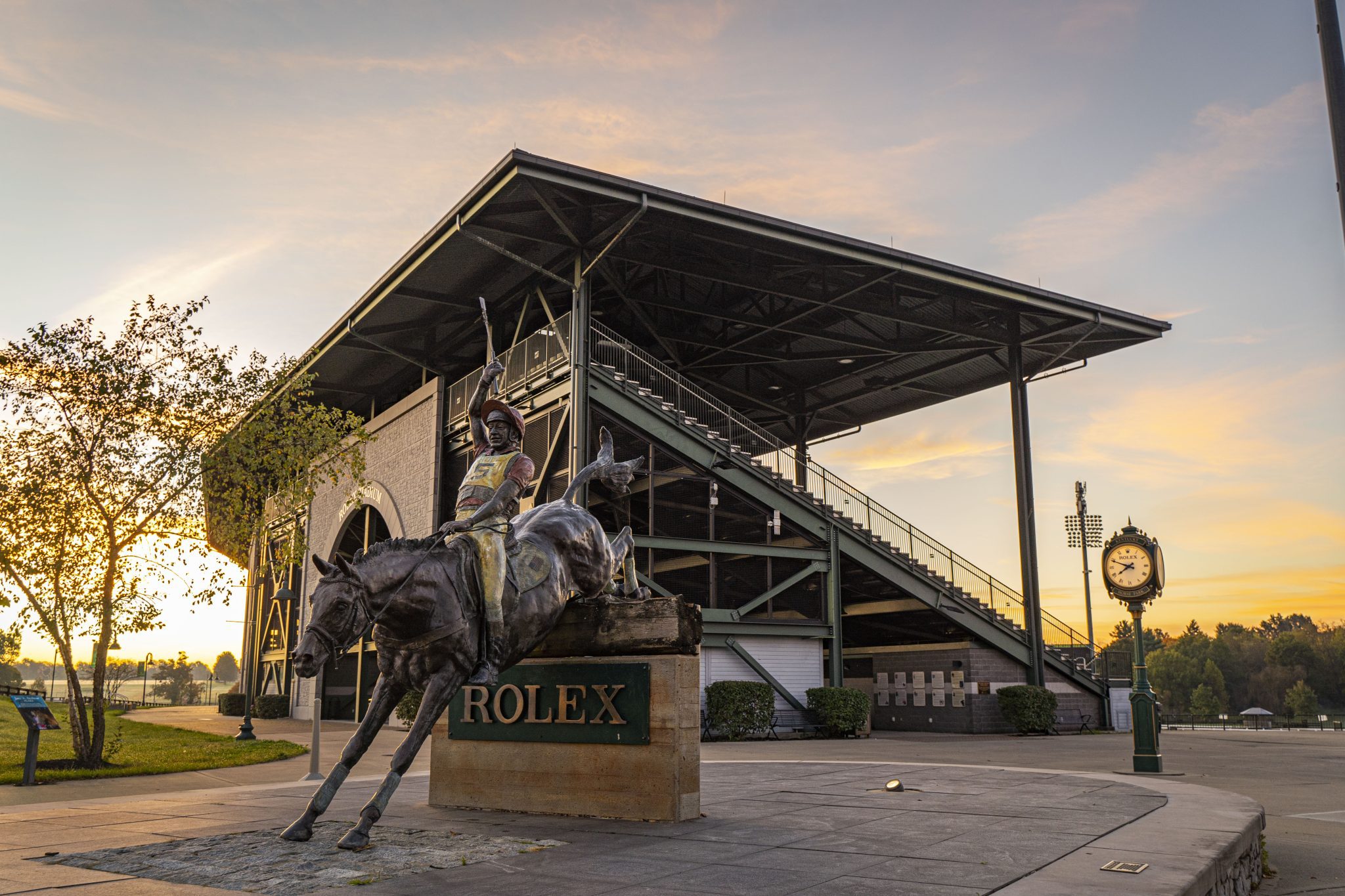 About the Sculpture
Bruce Davidson's Individual Gold Medal in the 1974 World Three Day Event Championships at Burghley, England riding Irish Cap gave the United States the right to host the next World Championships. The State of Kentucky bid for and received the right to produce the 1978 World Championships at the new Kentucky Horse Park.
The 1978 World Championships saw Davidson again capture the Individual World Champion title, this time aboard Might Tango. Thus began a record setting six times winning the Kentucky Rolex Three Day Event.
Eagle Lion was not Bruce's mount for any of these wins, but the dark brown Irish Sport Horse gelding, bred in Ireland in 1985 by Patricia Nicholson, began his development as a champion eventer at the Rolex Kentucky events in 1992 and 1993.
In 1995, Bruce and Eagle Lion became the first Americans to win the Badminton Horse Trials in England. Begun in 1949, Badminton remains to this day THE event every Event rider aspires to win.
Bruce was the US Eventing Association's Rider of the Year first in 1975 and then for 14 consecutive years, 1982-1995. He won the Individual Silver Medal in the 1975 Pan American Games as a member of the Silver Medal Team and the Individual Gold Medal in the 1995 Pan Am Games.
A five time Olympian, Davidson was a member of the 1972 Silver Medal Team, the 1976 and 1984 Gold Medal Teams, the 1988 Team and the 1996 Silver Medal Team. He represented the United States in five World Championships and in addition to his two Individual Gold Medals in 1974 and 1978, won the Individual Silver Medal at the 1990 World Championships.
The sculpture was a gift to the Kentucky Horse Park from George Strawbridge, owner of Eagle Lion, Rolex Watch USA, Patrick and Joan Bergmann, Phelps and Sharon Witter, and many of Bruce's loyal supporters.
About the Artist
Jean Clagett, born in 1945, spent her life with horses of all breeds and disciplines. Her first bronze equestrian sculpture in 1985 was Desert Wine, runner up in the Kentucky Derby. From there she has done horses of all breeds for clients and is in collections around the world, and specializes in doing specific horses and riders.
Now living in Upperville, VA, she has her studio and shop at home on a horse farm with her own retired Thoroughbred mare that raced in France, a Paint pleasure gelding, and a Connemara Pony mare which she rides and drives.
2015 | BRONZE
Cigar
BY douwe blumberg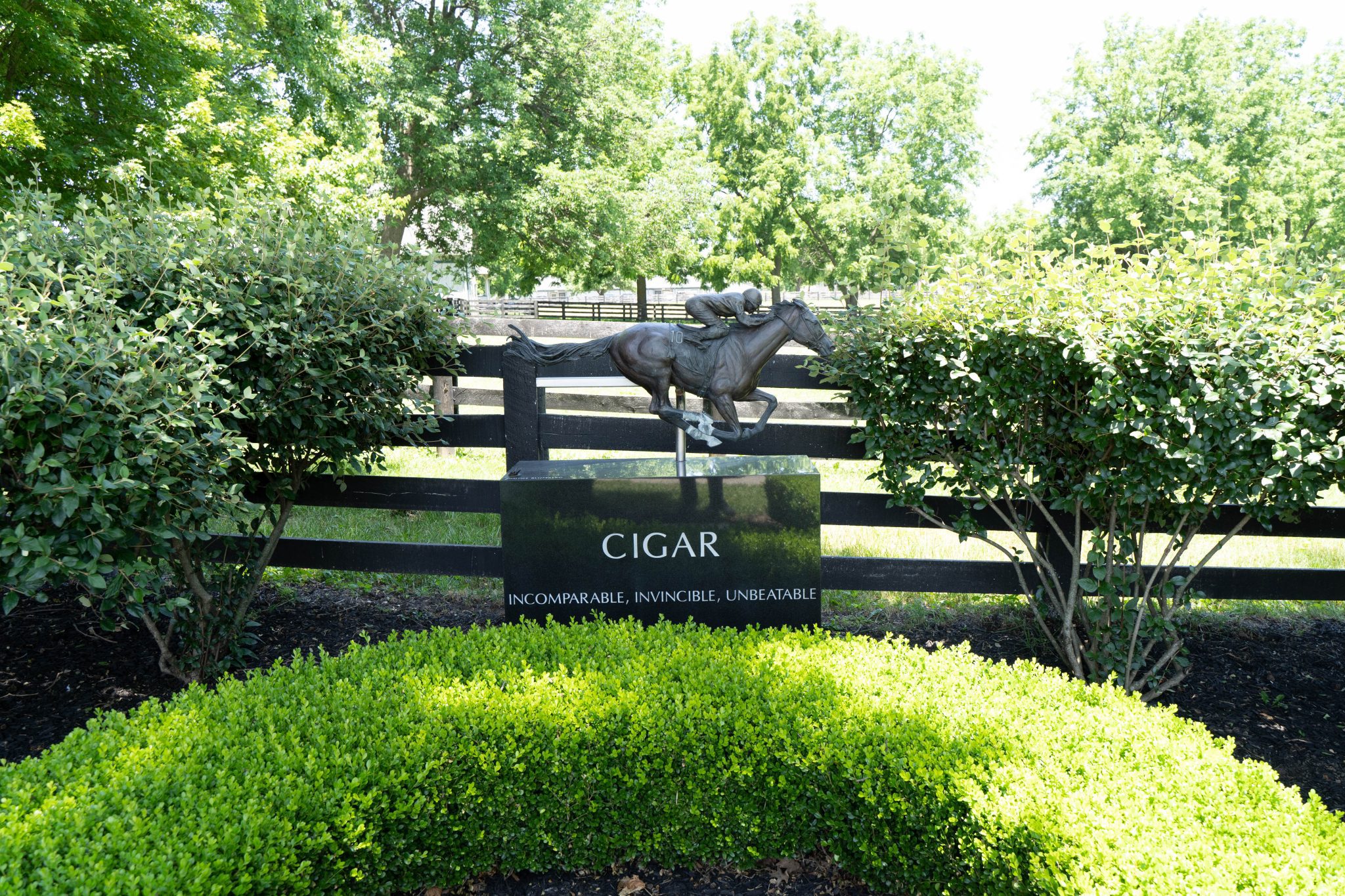 About Cigar
One of the world's top Thoroughbred racehorses, Cigar died Oct. 7, 2014, at age 24. In May 1999, Cigar came to the Kentucky Horse Park to live out his retirement. He was voted Champion Older Male and Horse of the Year in both 1995 and 1996. In August 2002 he was inducted into the National Museum of Racing and Hall of Fame. Cigar was also voted the Racehorse of the Decade of the 1990s.
About the Artist
Douwe Blumberg is a Kentucky artist and former professional horse trainer. Originally from Los Angeles, California, he now resides north of Lexington. His works include New York City's new America's Response Monument and the Flight 5191 memorial in Lexington.
2002 | BRONZE
Frisky Filly and
The Promise
BY gwen reardon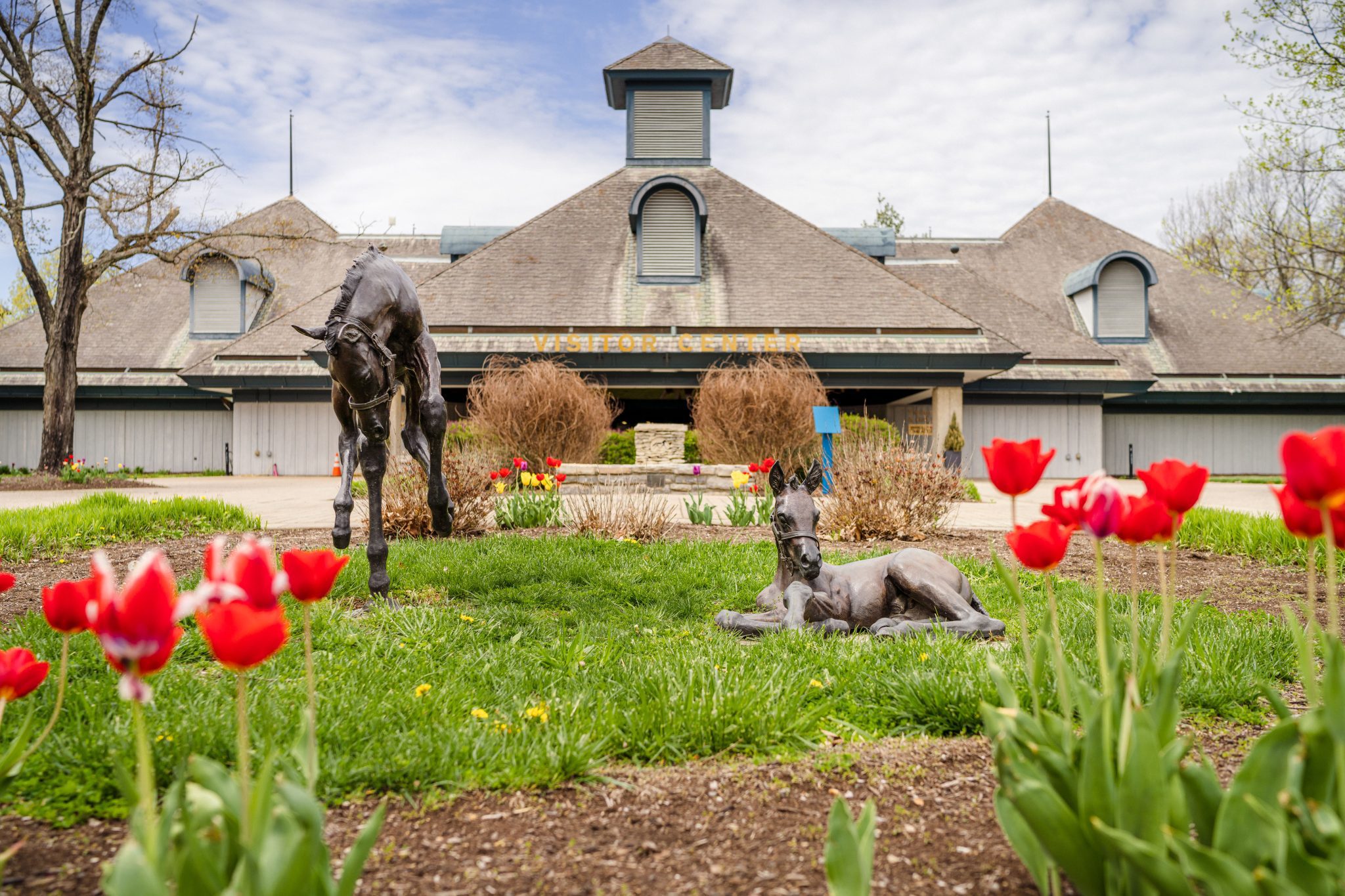 About Frisky Filly
"Frisky Filly" can be seen with another Reardon sculpture "The Promise" decorating the flower garden in the middle of the entrance to the Visitor Information Center at the Park.
About the Artist
Horses were a part of Ms. Reardon's life from birth as her father was a horse trainer and equitation instructor. At age five Ms. Reardon became the state equitation champion. She grew to prominence winning rides at major shows including being the youngest competitor to win the ladies championship at New York's Madison Square Garden.
In her free time while showing horses Reardon developed her artistic skills drawing and sketching the horses around her. Eventually she developed a habit of making small wax sculptures she used in the composition of her paintings. While she did not cast any of these early wax sculptures, there was one for every painting. She has received many awards for her work.
Ms. Reardon is a Full Member and currently serves on the Board of the American Academy of Equine Art, Inc. She lives outside of Lexington, Kentucky on a small farm where she continues to ride and enjoy her horses.
The most publicly visible collection of Gwen Reardon's work is in Lexington, Kentucky's downtown Thoroughbred Park. The park, is a tribute to the thoroughbred race horse, and features thirteen sculptures. Seven life size bronze race horses and jockeys rush dramatically to the finish line. Also in the park are brood mares and foals and a sculpture depicting the great stallion Lexington.
BRONZE
Happy Go Lucky
BY Veryl Goodnight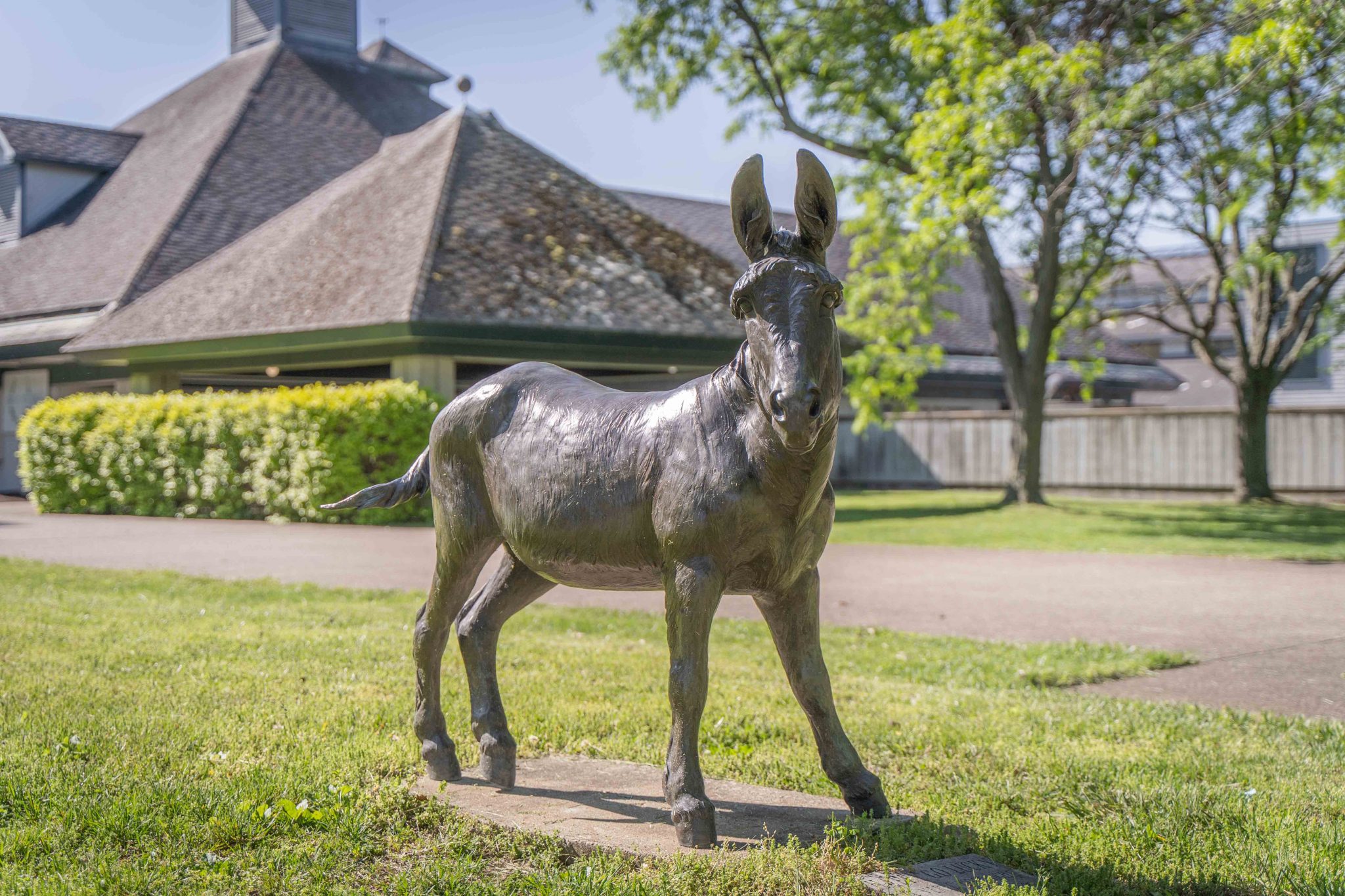 About the Artist
Veryl Goodnight lives and works in Southwestern Colorado. She grew up loving animals and the vast beauty of the American West. Goodnight is a sculptor, as well as a painter, and she never tires of the constant inspiration nature provides
2008 | BRONZE
John Henry
BY shelly hunter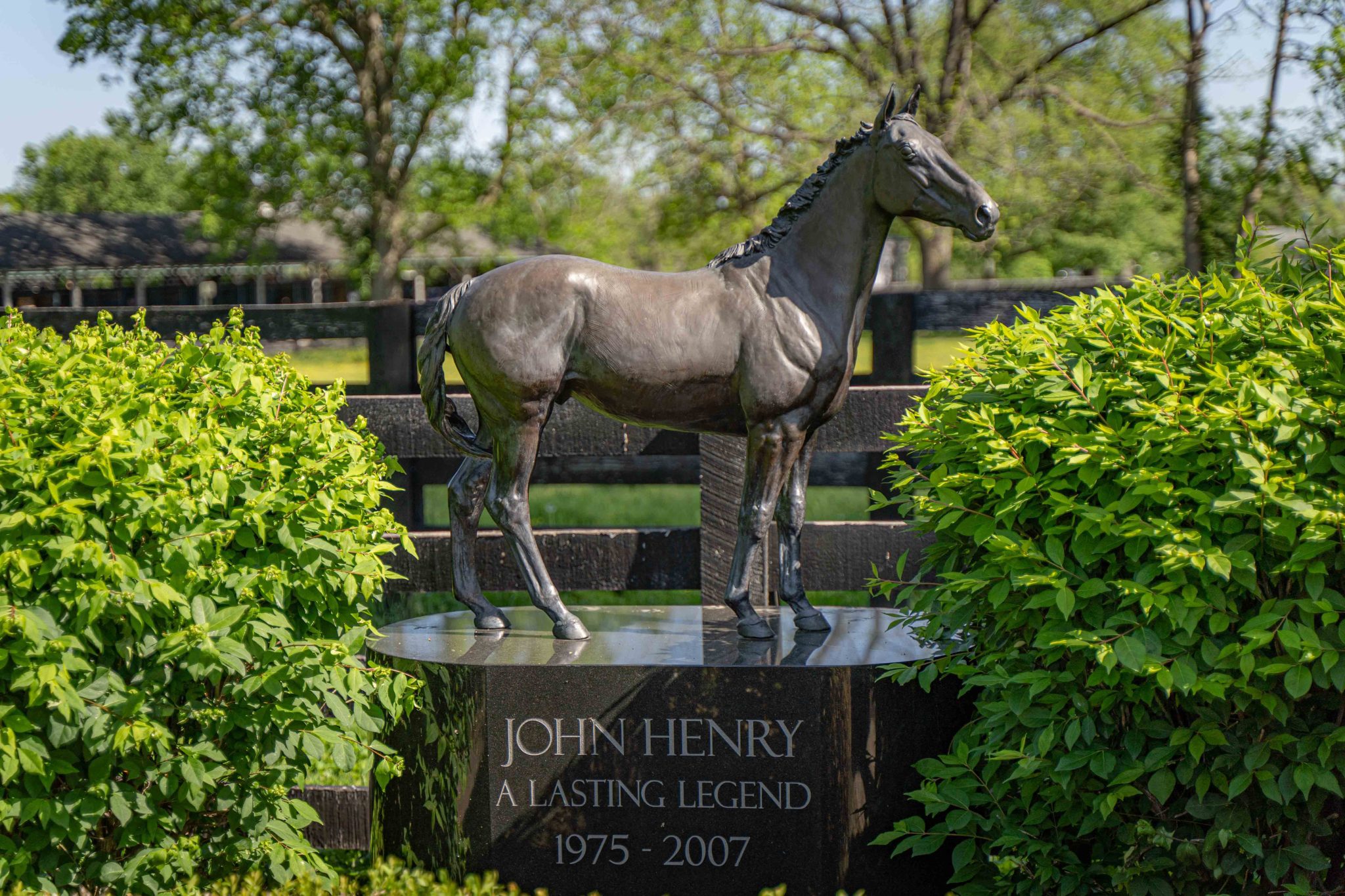 About John Henry
John Henry's race record included more than $6.5 million in earnings, 39 wins including 30 stakes wins (16 Grade 1 stakes wins) and seven Eclipse Awards, including two Horse of the Year titles. He is the oldest horse to win that title at age 9, and the only one to win it twice in non-consecutive years. He was voted Racehorse of the Decade for the 1980s, and was inducted into the National Racing Hall of Fame in 1990.
1948 | BRONZE
Man O' War
BY Herbert Haseltine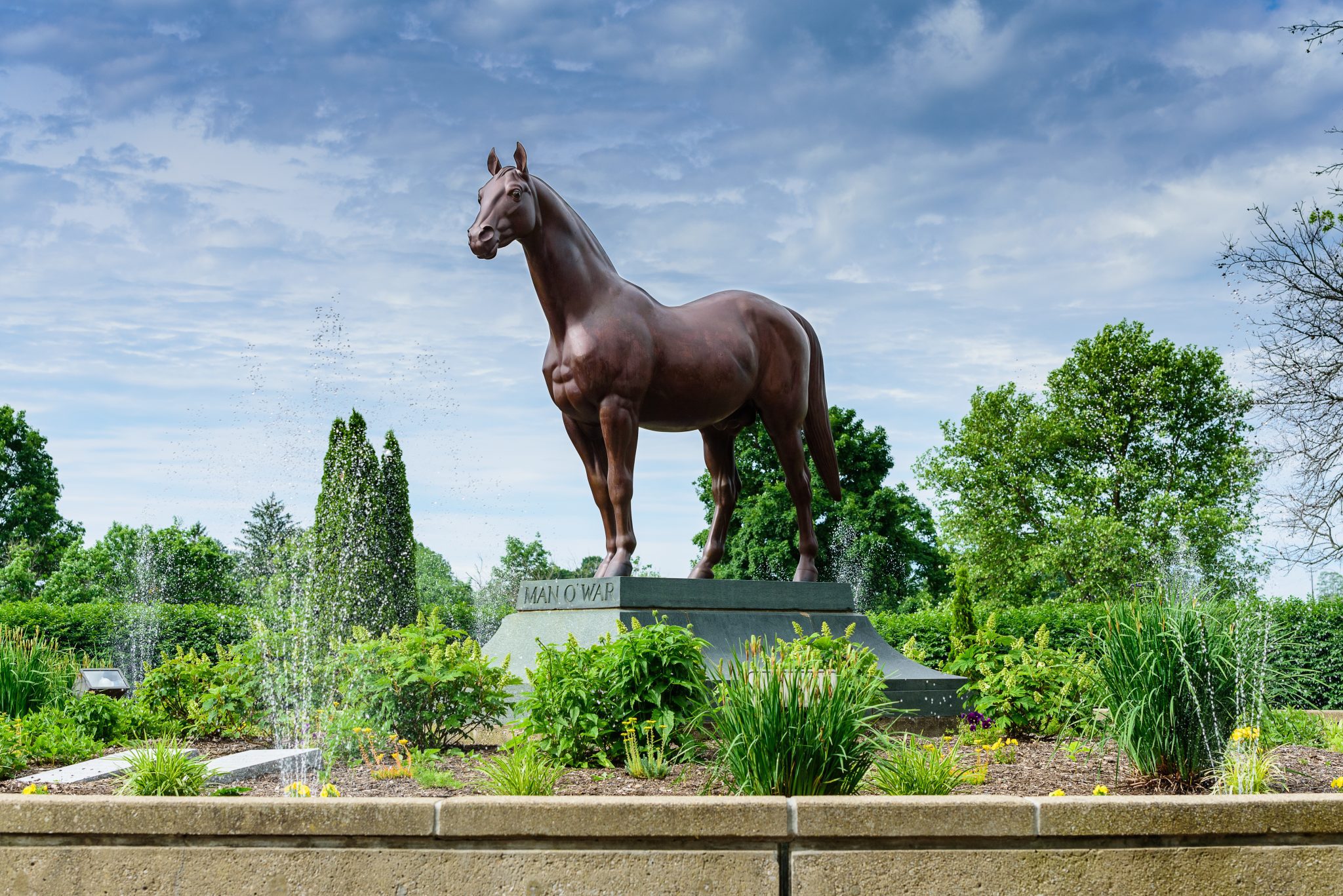 About Man O' War
The Man o' War statue, sculpted by Herbert Haseltine (1877-1962), stands on a pedestal just inside the entrance to the park grounds. He was foaled in March of 1917 at August Belmont's Nursery Stood just north of Lexington and was considered the greatest thoroughbred of the 20th century. Man o' War won 20 of 21 races, with his only loss ironically coming at the hands of a horse named Upset.
After retiring from the track to Sam Riddle's Faraway Farm in Lexington, he became one of the top breeding stallions country, and was the sire of the Triple Crown winning War Admiral.
The Man o' War statue first stood over his grave on the grounds of Faraway Farm, where he died in 1948. Both his grave and the statue were moved to the Kentucky Horse Park in 1977.
About the Artist
Born in Rome, Italy, the son of the wealthy American landscape painter William Stanley Haseltine (1835-1900), Haseltine studied at Harvard University. After graduating in 1899, he went to Munich, Germany to study drawing at the Academy and then to the Academie Julian in Paris, France where he studied painting. Haseltine chose to make Paris his home for the next thirty-five years until the German occupation of France during World War II. He moved to the US where he remained until 1947 at which time he returned to France.
Haseltine sculpted a variety of animals but is best known for his equestrian sculpture work, most notably the 1934 life-size statue of the thoroughbred race horse Man O' War at the Kentucky Horse Park in Lexington, Kentucky. He replicated many of his large works in table-top sizes.
The author of a number of books on animalier art, Hazeltine was well connected in American upper-class society and did a three-year project to create a work for heiress Barbara Hutton.
Herbert Haseltine died in Paris, in 1962.
1997 | BRONZE
Misty of Chincoteague
BY Brian maughan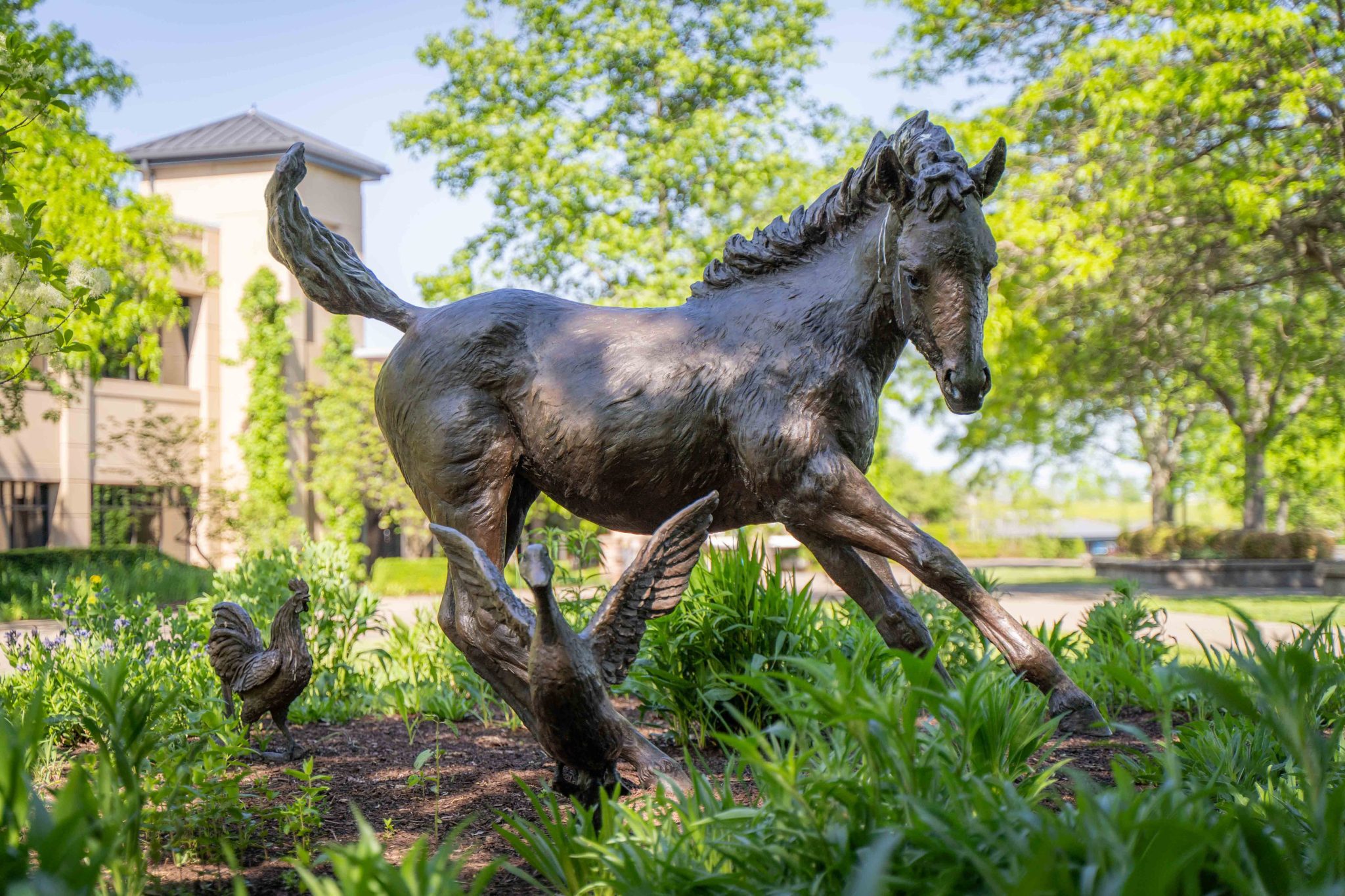 About Misty of Chincoteague
Misty of Chincoteague stands as a tribute to the famous Chincoteague pony (Chincoteague, Virginia) depicted in Marguerite Henry's children books. It is located near the park's playground. It captures the magic that always fascinates children, as well as adults.
About the Artist
Brian Maughan has been an esteemed artist for more than 40 years, completing major works throughout the country. He specializes in bringing out the energy and life in his subjects, as demonstrated in his Misty of Chincoteague work.
1939 | BRONZE
Roxie Highland
BY george F. yostel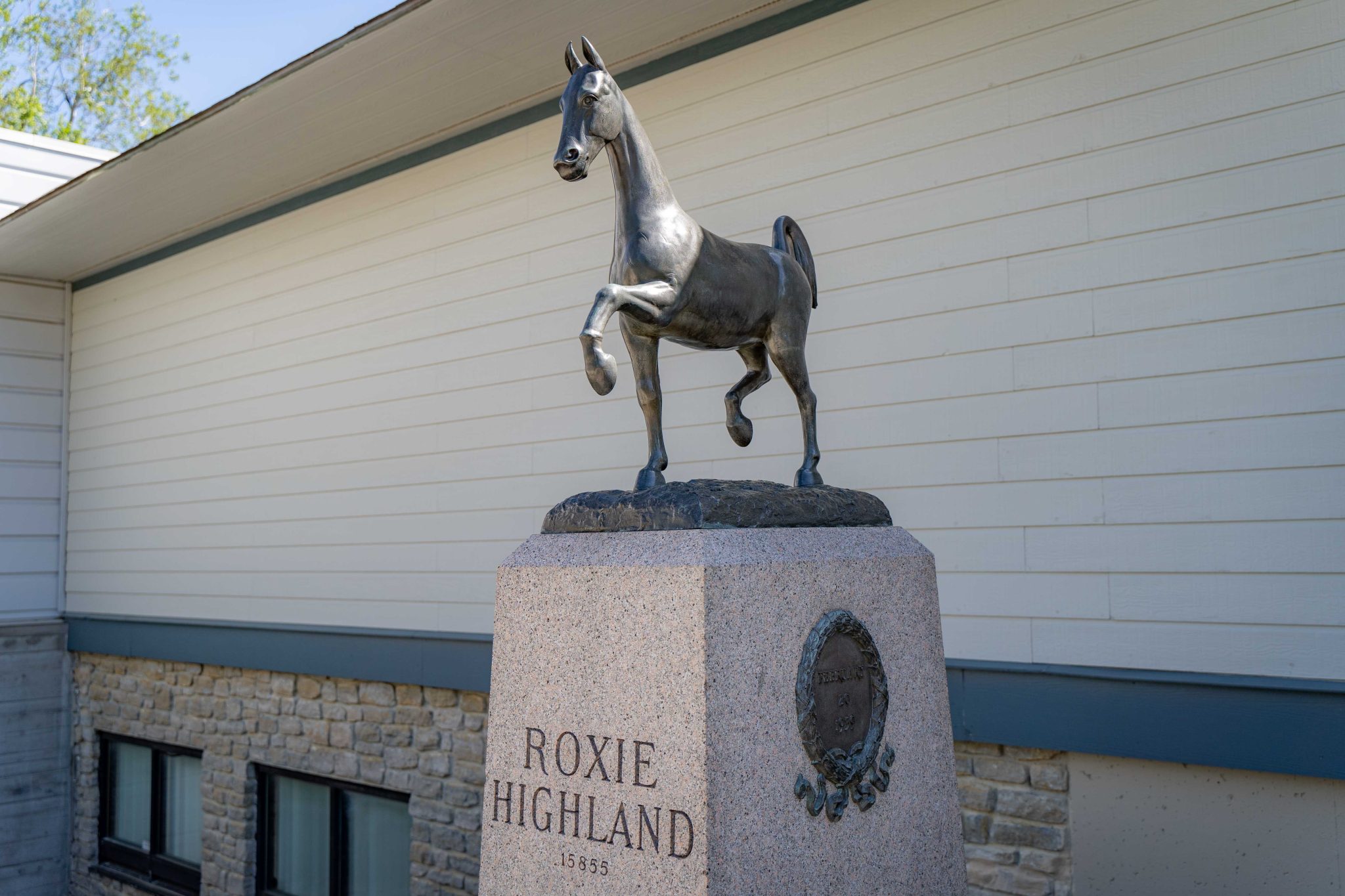 About Roxie Highland
Roxie Highland was a famous American Saddlebred Horse who is buried on the Park and the Statue is located outside of the American Saddle Horse Museum.
About the Artist
George F. Yostel was educated and at the Kunstgewerbe Schule and received his Masters of Fine Arts Degree at the Art Academy of Munich in Munich, Germany. He came to Cincinnati, Ohio through the sponsorship of a company that specialized in ecclesiastical art such as chalices, ciboria and crucifixes. He eventually opened his own studio. Yostel was active in the U.S. Cavalry and later owned his own horses.
2004 | BRONZE
Secretariat
BY edwin bogucki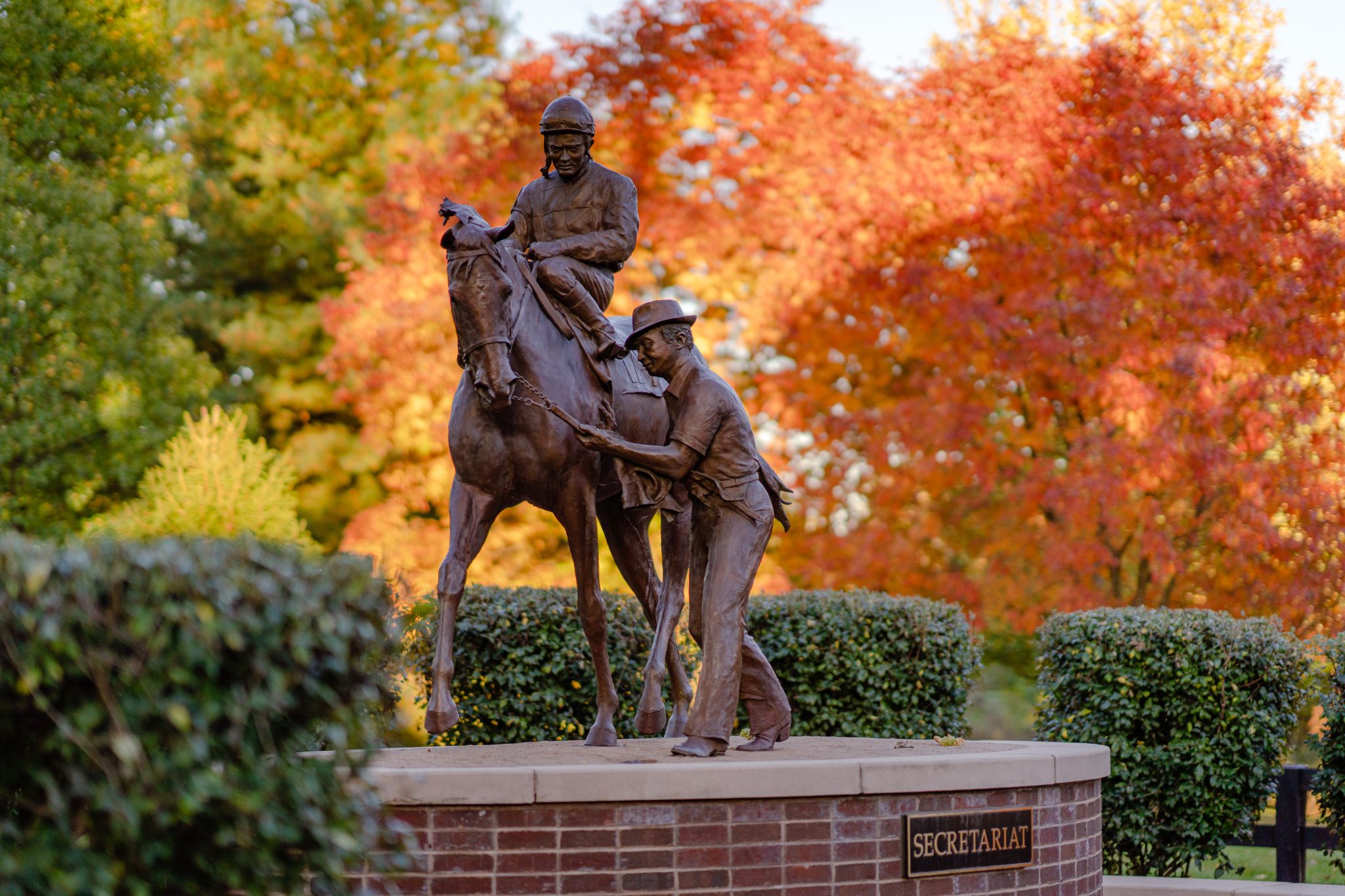 About the Sculpture
The Edwin Bogucki Secretariat bronze equestrian sculpture at the Kentucky Horse Park depicts the incredible thoroughbred race horse that captured thoroughbred racing's Triple Crown and won the Belmont Stakes by 31 lengths. In this life-size statue, he is being led into the winner's circle after his win in the Kentucky Derby by groom, Eddie Sweat with jockey Ron Turcotte in the irons. The bronze weighs 1,500 pounds and is the centerpiece of the Secretariat Plaza at the Kentucky Horse Park.
About the Artist
Learn about Edwin Bogucki
1992 | BRONZE
Secretariat
BY Jim reno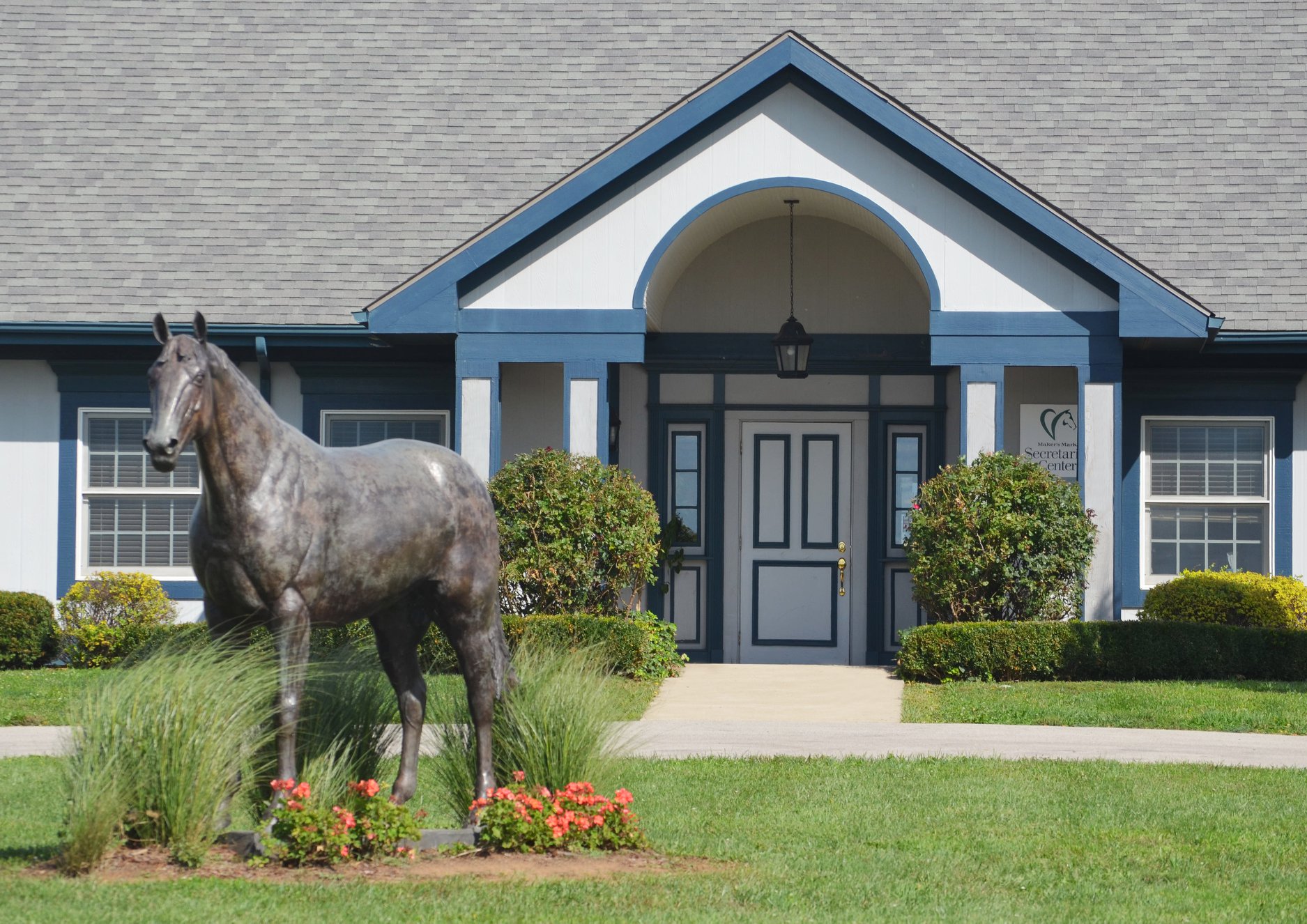 About the Sculpture
Sculpted by Jim Reno, the bronze statue of Triple Crown winner Secretariat (1970-1989) stands at the Secretariat Center (Thoroughbred Retirement Center) on the Kentucky Horse Park grounds. Reno's bronze depicts Secretariat as an older sire, and was completed shortly before his death.
About the Artist
Reno was educated at John Herron Art Institute in Indianapolis, Indiana, under David Rubins. This experience strengthened his appreciation of classical design and other values that play an integral part in his sculpture.
Reno's experience with horses, refined over many years as a cutting horse trainer, has enabled him to understand the anatomy and mind of his horse subjects.
1983 | BRONZE
Supreme Sultan
BY patricia crane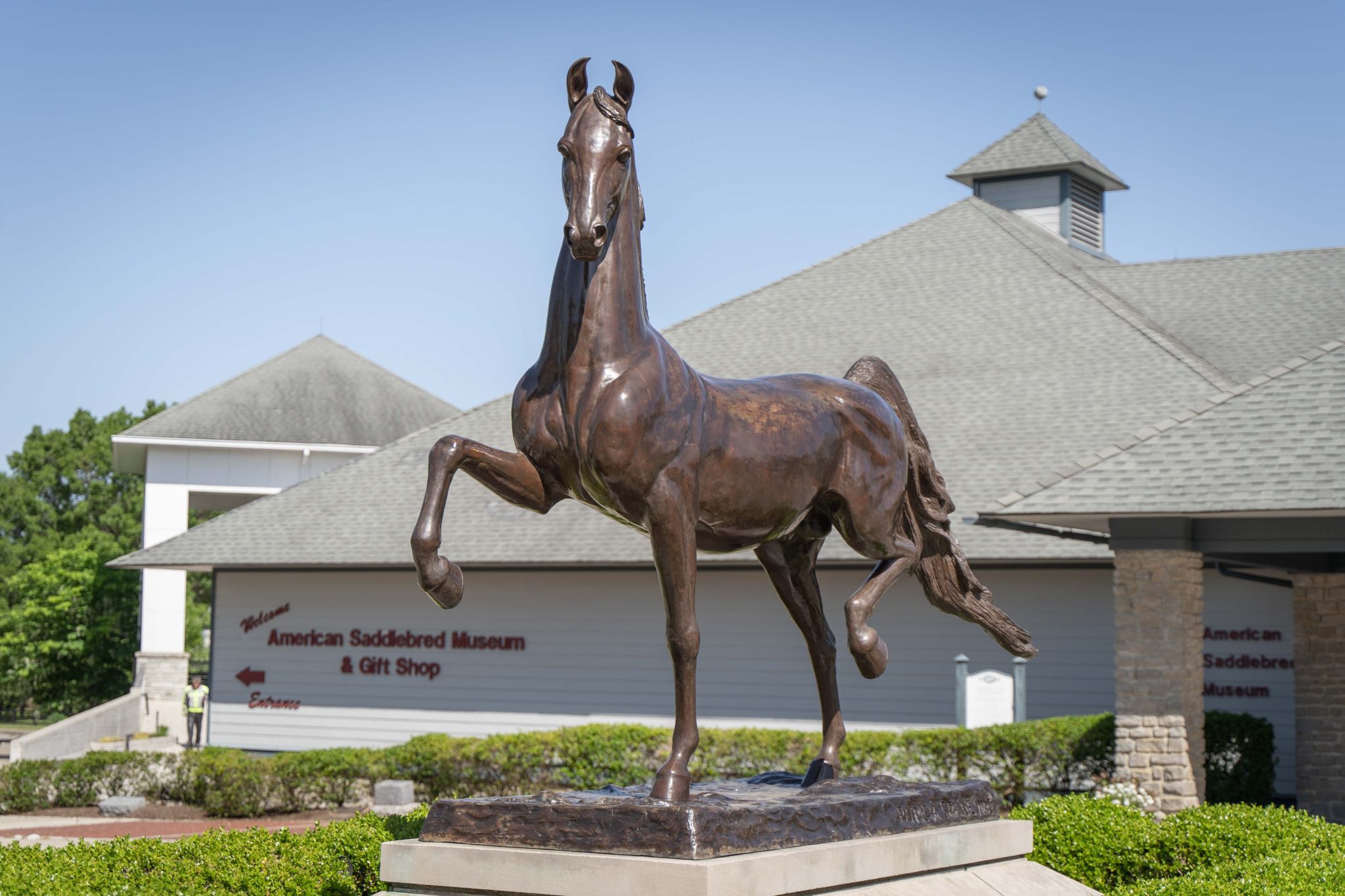 About the Sculpture
Located at the entrance to the American Saddlebred Museum, Kentucky Horse Park
Once described as "The Man o' War of Saddlebred breeding," Supreme Sultan is buried at the Horse Park. He was bred by Alvin C. Ruxer and was reknowned for his ability to sire championship saddlebreds.
About the Artist
Patricia Crane is among the nation's most respected equine artists. Her sculpture has achieved national and international recognition and has been featured in equine and art publications throughout the world. She has won the praise of art critics, horsemen and the general public. Her artwork is at the Kentucky Horse Park as well as other public and private collections throughout the United States, Canada, Europe, Australia, Haiti and Japan.
A well known trademark of this sculptor's portraiture is its outstanding truthfulness. Patricia's gift is the ability to capture the spiritual nature of the horse in art while retaining the superb realism and correct anatomy of the living, breathing animal. Patricia's artistic studies paralleled scholastic achievement at four universities culminating in a philosophy degree and graduate work. In her own words, she states the following: "Art began very early as an 'at home' interest, pursued through the years because of my own fascination with the horse. I have dissected, drawn, and studied until I evolved my own system of measurements and proportioning for the study of living horses. I use this today in my preliminary work for a sculpture. Actually, I at no time truly planned my career. It became a fact before I ever thought of it as being a goal, at which point the goal was to just become better at what I was doing. This goal remains constant!"
Crane's work can also be seen at the American Saddlebred Museum on the grounds of the Kentucky Horse Park.
1993 | BRONZE
The Pheonix
BY patricia crane
About the Sculpture
Located at the entrance to the International Museum of the Horse.
About the Artist
Learn about Patricia Crane above.
1988 | BRONZE
The Spirit of the
American Morgan
BY gwen reardon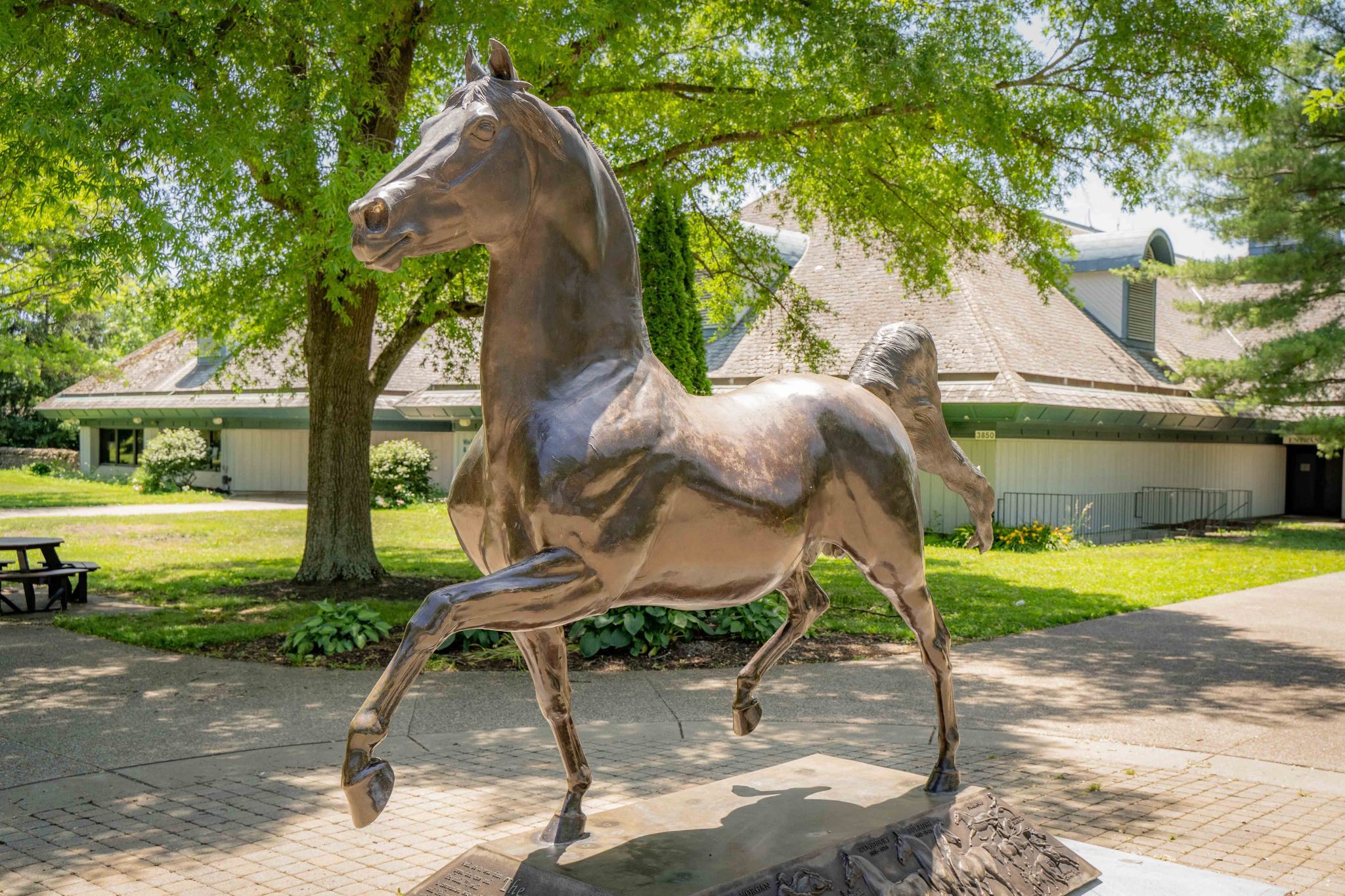 About the Sculpture
Sculpted in honor of the 200th anniversary of the Morgan Horse Association, the statue is located between the Visitor Information Center and the International Museum of the Horse.
About the Artist
Learn about Gwen Reardon above.
2011 | BRONZE
CH Wild-Eyed
& Wicked
BY Sally mcclure jackson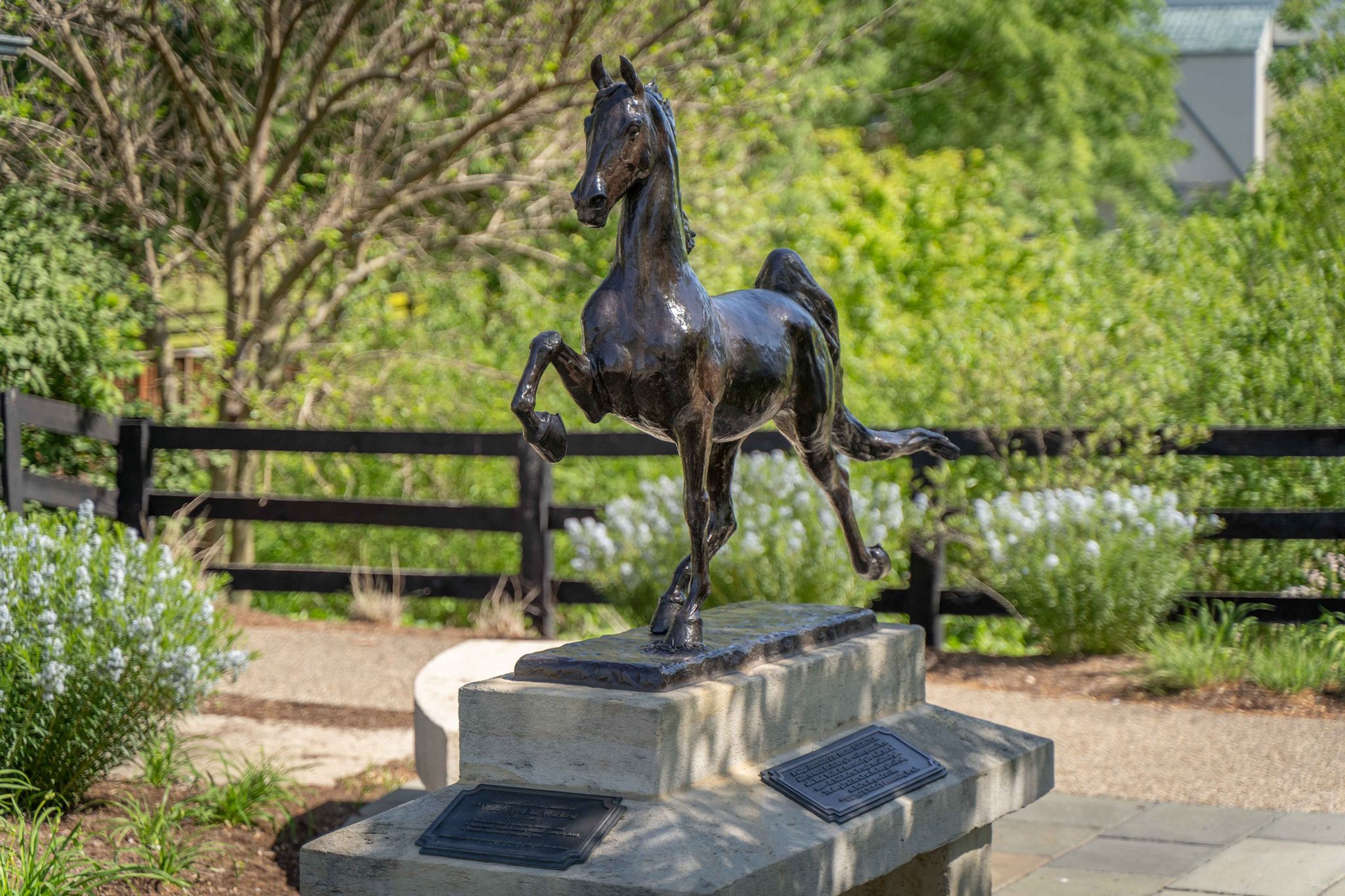 About CH Wild-Eyed & Wicked
The Kentucky Horse Park statue of American Saddlebred, CH Wild-Eyed & Wicked, was sculpted by his owner Sally McClure Jackson. The statue is the centerpiece for a beautiful outdoor seating area at the American Saddlebred Museum, the Showplace for Saddlebreds. CH Wild-Eyed & Wicked won a variety of accolades during his stellar show career. His show record includes being the World's Grand Champion Five-Gaited horse two times, and the two-time winner of the American Saddlebred Triple Crown. The gelding's statue gives a brief Saddlebred history along with the explanation of the breed's gait.
About the Artist
A noted artist, Sally McClure Jackson's works are in the collections of the United States Equestrian Federation, the Kentucky Horse Park, and Lord Westmorland of London, England, among others.