---
The KHP Volunteer Program was created to support Park staff and help in all areas – hands-on with horses, International Museum of the Horse, special events and shows, shuttle driving, tour guides, and much more!
All volunteers must attend an orientation and hands-on training (if wanting to work with the horses), then all volunteer shifts are signed up based on the volunteer's interest and availability.
The Program has no minimum hours, although we hope to see volunteers regularly!
Volunteers must be 18 to join or 16 (parent must attend orientation, limited responsibilities) for the Minor Program.
HOW TO BECOME A VOLUNTEER:
3. The Volunteer Manager will send you a link to a background check in a separate email to complete (from sterlingvolunteers.com).
4. The Volunteer Manager will be in touch to schedule an interview and orientation.
If you have any questions about becoming a KHP Volunteer, please contact the Volunteer & Outreach Manager, Sidney Barnett at sidneyk.barnett@ky.gov or call 859-259-4267.
VOLUNTEER OPPORTUNITIES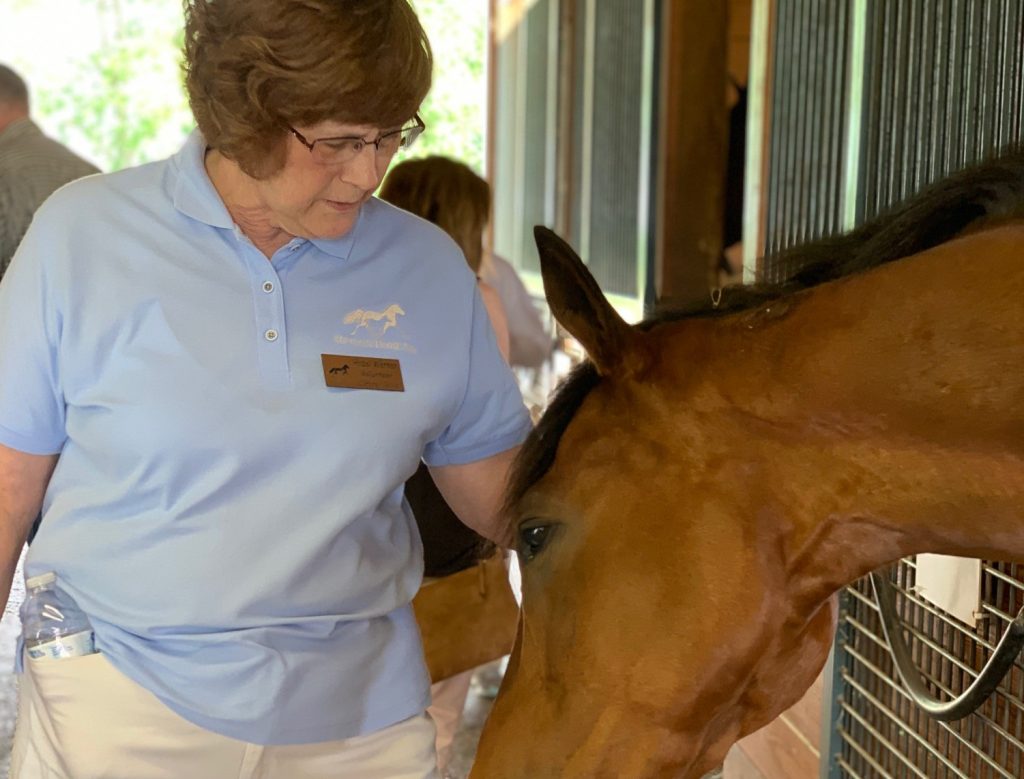 Equine
Get up close and personal with our beloved horses! Help is needed with general stable duties such as washing, mucking, grooming, tack preparation, harnessing, and more! These are busy and hardworking barns. You will get your boots dirty! Before volunteers may begin volunteering in the barns, all volunteers are required to participate in the hands-on training.
Breeds Barn
Live performances are held twice a day during the show seasons (mid-March thru October) which educate visitors about the history and diversity of various breeds of horses and disciplines. This barn is very fast-paced in requires volunteers with extensive horse experience.
Big Barn
This is where our gentle giants reside. There is a lot to groom, but it's worth it after seeing them well turned out drawing a trolley load of visitors around the park! There are even opportunities to narrate carriage tours!
Hall of Champions
Here you can find our celebrity horses who have retired from the racetrack or the show ring. Each day they relive some of their former glory through presentations to the public. Come help them look their best for their fans!
Mounted Police
Help bring horses in, groom, feed, bathe, and clean tack and stalls. The unit holds mounted clinics and symposiums throughout the year; volunteers are needed to assist with these clinics.
Park Representative
Volunteers advise and direct guests on how to best enjoy their time at the Park. Representatives must be positive, outgoing, and dedicated to having a broad knowledge of the Park and its rich history. Volunteers are required to shadow an experienced volunteer or staff before signing up for Park Representative shifts alone.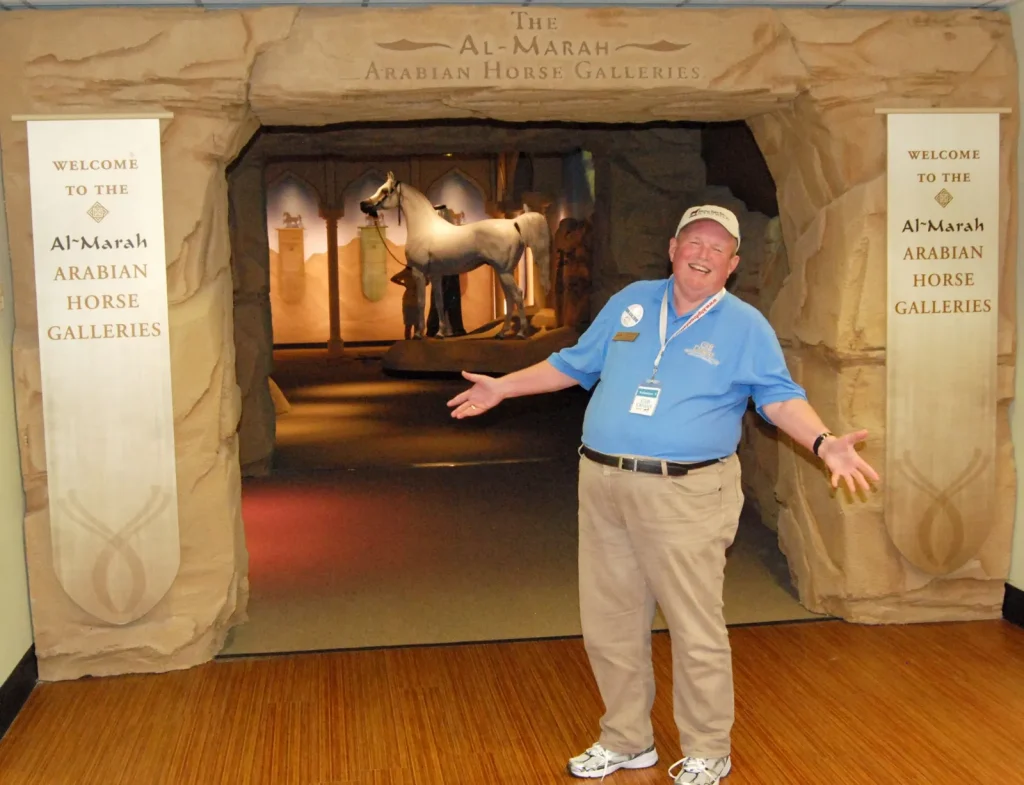 Shuttle Driving
Drive one of the 6 or 8-seater golf carts throughout the park, shuttling guests to various areas of the park.
Tour Guide
There are thousands of adult and school group visitors coming to the Park every year. Tour guides give interpretive tours of the Museum, park grounds, Mounted Police barn, and to various VIP and media groups. The Volunteer office has multiple scripts and history books if you are interested!
Field Trip Tours
Work with the education department and guide school groups throughout the park, answering questions, encouraging learning, and involvement with horses.
Information Host
Hosts can be placed at the Visitor Center, Museum desk, and in the barns to welcome guests, provide information about activities and programs, monitor security cameras, answer phones, direct visitors, assist with props and notify staff in an emergency.
International Museum of the Horse
Work at the front desk of the largest equine museum in North America! Greet guests, answer questions and facilitate tours throughout the IMH. There are also opportunities to work in the IMH Library and with IMH Education.
Special Events
Volunteers are needed for various events to help with the preparation for and during events. Duties may include advising and directing visitors, ticket taking, registration, package stuffing, t-shirt sorting, shuttle driving and traffic control.
Behind the Scenes
Volunteers are needed to help with office duties, cleaning and general maintenance around the grounds.
Museum Assistant
Volunteers will work directly with museum staff on a variety of projects requiring different levels of knowledge and expertise. Project areas include archives, library, research, conservation, and exhibitions.
Clerical
Duties may include filing, mailings, inventory, processing requests and data entry. Maintenance/Landscaping: Help to keep the grounds looking immaculate by planting trees, picking up trash, cleaning the arenas and more!
VOLUNTEER EDUCATION AND VOLUNTEER SOCIALS
The Volunteer Manager schedules Volunteer Education events monthly and Volunteer Socials four times a year. The Volunteer Education Program is an opportunity for volunteers to go out in the Lexington Community and learn about various businesses and industries that tie in with the mission of the KHP. Volunteer Socials are an opportunity for volunteers to socialize with one another over dinner and drinks, with a focus on a specific barn or area of the park.
VOLUNTEER SHIFTS
Barn Shifts:
Daily, 8:30-12:00 and 1:00-4:30
Park Representative Shifts:
Daily, 9:00-1:00 and 1:00-5:00
Special Events:
Specific to each event